At the end of it all, you paid $80 more for 20 free games. Is it worth it?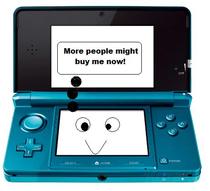 I'm sure a lot of us are still just looking at the computer screen confused as the 3DS is dropping in price from $250, a price known to be high, to $170, which is likely lower than anyone would think it would've been at launch. But let's look at the value of the 20 free games available for those who bought the system and took it online before August 11.
On September 1, 10 NES games will be available for Ambassadors. If we say the going rate for NES games is $5 (the price of them on the Wii Shop Channel), then that is a $50 value. We're already more than halfway to the $80 drop.
Later in the year, 10 Game Boy Advance games will be available for Ambassadors. We have no precedent set for GBA games on downloadable stores, but let's, for the sake of argument, say they will be $8 each. That's an $80 value.
So, you 3DS Ambassadors will receive approximately $130 in games for free for buying the system early and for $80 more than other people. Boo-yah.
Though, some of those games might not be worth it, so let's look at the games that are confirmed to be a part of this program:
NES/Famicom Virtual Console titles will include:
- Super Mario Bros. - A classic
- Donkey Kong Jr. - Decent, worth getting for free
- Balloon Fight - Joust but by Iwata, so cool I guess.
- Ice Climber - They're in Smash Bros., so I'd say it's worth getting for free for the hell of it.
- The Legend of Zelda - Excellent!
Game Boy Advance Virtual Console titles will include:
- Yoshi's Island:Super Mario Advance 3 - One of the greatest SNES games
- Mario Kart: Super Circuit - An underrated entry in the Mario Kart series
- Metroid Fusion - A great Metroid game
- WarioWare, Inc.: Mega Microgames! - One of the premier GBA games
- Mario vs. Donkey Kong - The sequel to the lovely DK '94
Now, I'll be blunt here: I can't wait to get my free stuff. As a fan/consumer, this is the greatest news ever. Almost makes me forget that the Wii is basically dead, we're missing out on three Japanese RPGs, and most non-Nintendo-made 3DS games are getting delayed until 2012. Almost.