Finally, two of the most useful types of Pokémon get some loving!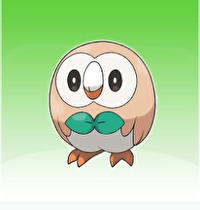 This shouldn't be a shock to anyone, but flying Pokémon are the most helpful creatures in the Pokémon world. With their vast array of moves and their swiftness, they can't be beat in my eyes. Still, there are too many too choose from, and I have a hard time picking the correct one. On the direct other side, there are grass pocket monsters. If I am being honest, I've barely used a grass-type starter outside of Bulbasaur. You could make the argument that they are quite useful in some games, but the designs do matter somewhat. I would usually wait until I saw something I felt like using.
This is where Rowlet kicks in, a hybrid between a bird and grass Pokémon. The design is simple, straightforward, and, above all, adorable. Once he opens his wings, you will see that his feathers are part leaf. With his Leafage move, he will shoot some at his opponent, which is shown nicely in the creature's promotional art. Another nice touch is that Rowlet can turn its head 180 degrees. The idle animation sees him looking at the trainer and back at the opponent he is facing. The critter takes note of his surroundings, which is nice quality for a flying Pokémon!
According to the description on the offical Pokémon Sun and Moon website, Rowlet is quite impressive at flying as well. It can fly through the skies without making a noise, draw near to the opponent and give it a world of hurt by kicking. How cool is that? Not as cool as his perfect round shape with two leaves hanging out at the front, and two huge eyes and a cute beak make up that beautiful face. The little guy is perfect for a place like Alola. I can see him hanging around in trees, looking around and staying away from harm thanks to that handy camouflage!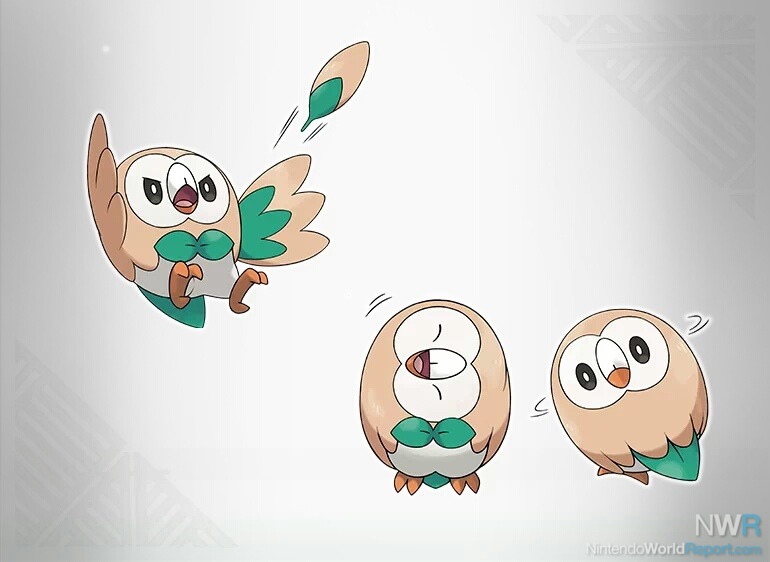 Next to that, the combo of grass and flying can be incredibly handy, all things considered. With the right moves, it might be able to hold its own against Electric creatures, but the jury is still out on that. At least it has a solid foothold when battling a variety of opponents, which is a nice thing to have. Then again, we aren't sure yet which new monsters will cross our paths in Alola, but I have good hopes. You don't make a cool grass-owl without reason, right? My thoughts exactly!
So yeah, I am pretty pumped to start my adventure with a bird. The struggle to find a nice one was real, and Rowlet is the perfect one right out of the gate. The design behind it, the potential of his attacks and even the background information sounds so brilliant to me. This will be my first grass starter in a very, very long time, and I honestly see no problem with that. There weren't slim pickings with the starters, but Rowlet sits right with me. It combines two standard staples of my party into one nice chunk!