Release date, region, and gameplay all get spilled.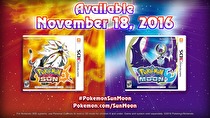 The Pokémon Company released the first trailer for Pokémon Sun and Pokémon Moon today, showing off new Pokémon and gameplay.
The three starters are Rowlet (Grass/Flying), Litten (Fire) and Popplio (Water). The two new mascot Pokémon were also revealed but not given names.
The new Alola region is described as "paradise" and has a tropical theme in the trailer. The games are set to release on November 18 in North America and Japan and on November 23 in Europe.
The trailer includes a handful of new locations and both day and night shots. The games follow the art style of the previous 3DS Pokémon games.
UPDATE: The Japanese trailer shows trainer customization and the professor's name as Hala. In addition, a Meowth is visible at a point, confirming old Pokémon will be present.