We give you our picks, but who will YOU choose?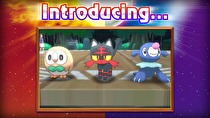 New Pokémon games are magical. Everyone has new creatures to love and new creatures to hate. No Pokémon are divisive as starters, though. In Pokémon Sun and Moon, we get to choose between Popplio, a clown-seal; Litten, a fiery black cat; and Rowlet, the best-dressed owl in the Pokéverse.
Site Director Neal Ronaghan sent out a survey on Patreon and Twitter in which 47% chose Litten, 44% chose Rowlet, and a whopping 9% chose Popplio. We're a bit more evenly split. For each starter, a champion has stepped forward. See if their arguments can help you decide on a favorite -- or change any decisions you've already made!