So how does Nintendo's future look?

After looking over Nintendo's recent announcements, and trying to put the pieces together, I think I've come to a conclusion on how Nintendo plans to operate over the next several years. The diagram below to helps illustrate my theory.
Nintendo is going to be heavily leveraging their world famous franchises and attempt to have their brand grow. They will do this in the form of Visual Media, Licensed Merchandise, Amiibo, Dedicated Game Platforms, and through Smart Device Apps.
Through these, a main goal will be to get people enrolled in the upcoming Membership Service so that Nintendo can help deliver their message and advertisements. Then, if a user is not already on board with a Dedicated Game Platform, Nintendo will do what they can to convince consumers to make the jump over to the premium software.
Quality of Life will be a separate business initiate that is really meant to help the company diversify. That said, the Quality of Life platform may interact with the Membership Service.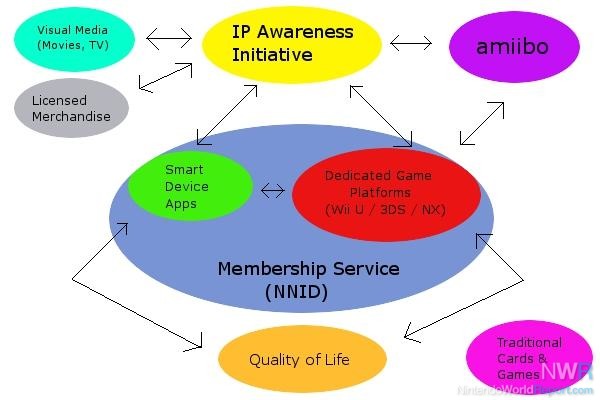 Nintendo's traditional cards and games business will also likely still be around, and not really connected to the web illustrated above in any way.
All of this is, of course, my own personal speculation based on the research I have done. However, I'd be surprised if I were way off.
The bottom line is Nintendo has made it clear that they will not be leaving the dedicated game platform business, and if anything, the future for them sounds very bright with the possibilities for the NX.
So all those people out there that may be worried about Nintendo's smart device initiative, I beg you not to be. There has been no indication out there that this is an aspect of the business Nintendo plans to solely focus on. Instead, everything I've come across points to the company trying to increase brand awareness through various means in order to get more people on their dedicated gaming platforms.
This news should excite people because it likely means that there will be more people playing the games we love here at Nintendo World Report. That translates to more friends and more people to interact with on Nintendo's upcoming Membership Service.
If Nintendo can pull off these plans I think the future could look great for the company. If everything is executed we could see a huge increase in the number of people enjoying Nintendo games, characters, and who knows what else.