The eShop is heating up for the holiday season.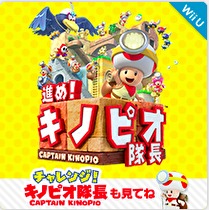 It's another busy week on both the Nintendo 3DS and Wii U eShops in Japan. The 3DS is starting to see the beginning of what is looking to be a promising holiday season for gamers in Japan. There are some demos that hit the digital space for some pretty big titles including Etrian Odyssey II Untold, Final Fantasy Explorers, and Samurai Chronicles 3. Not only that, but anime fans can get the latest One Piece retail release on Nintendo's handheld this week too.
The Wii U is getting one of the bigger home releases this week in Captain Toad: Treasure Tracker, which goes on sale Thursday. Nintendo also finally released a demo version for Pikmin 3 on the system, ramping up the number of available demos to around a dozen. To cap things off, the Virtual Console on Wii U is still running at a good pace with the release of both Mega Man Battle Network 2 (GBA) and Crash 'n the Boys: Street Challenge. For a complete look at all of the releases this week, be sure to check out the round-up below!
3DS
Downloadable Titles
Ashi Ato Ribashi Kumamon Version - 200 yen
Shikakui Atama o Marukusuru Junior Kokugo Sansū Shakai Rika Seikatsu - 4,104 yen
Shikakui Atama o Marukusuru Expert Kanji Keisan Zukei - 4,104 yen
Shikakui Atama o Marukusuru Master Kokugo Sansū Shakai Rika - 4,104 yen
Shun Ashi Mezase! Zenkoku Saikyō Runner (retail title) - 4,937 yen (from 11/13)
One Piece: Super Grand Battle! X (retail title) - 6,145 yen (from 11/13)
Shin Sekaiju no Meikyū Fafnir no Kishi (Etrian Odyssey II Untold: The Knights of Fafnir) Demo - FREE
Sengoku Musō Chronicle 3 (Samurai Warriors Chronicles 3) Demo - FREE
Dori Kanon Doki Doki Tokimeki Himitsu no Ongaku Katsudō Start De-su!! Demo - FREE
Maho Colle(ction) Mahō Idol Collection Demo - FREE
Final Fantasy Explorers Light - FREE (from 11/14)
Virtual Console
NA (no titles since 5/7)
Wii U
Downloadable
Susume! Kinopio Taichō (retail title, Captain Toad: Treasure Tracker) - 3,700 yen
Pikmin 3 Demo - FREE
Virtual Console
Bikkuri Nekketsu Shin Kiroku! Harukanaru Kin Medal (Crash 'n the Boys: Street Challenge, Famicom) - 514 yen
Battle Network Rockman EXE 2 (Mega Man Battle Network 2, Game Boy Advance) - 702 yen