Gamers can get a free taste of Square Enix's upcoming multiplayer Final Fantasy title.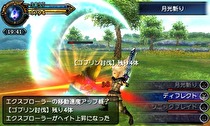 Final Fantasy Explorers Light, a demo version of Final Fantasy Explorers, is coming to the Nintendo 3DS eShop in Japan on November 14. With the Light version, players will be able to play through the early parts of the game, which will take them through the prologue and give gamers a chance to fight two boss monsters. The demo supports multiplayer both online and locally as well as the ability to carry over Gil, Crystal Points battle items (like potions) and abilities. Square Enix promises that the Light version should take gamers around two hours to complete.
The full version of Final Fantasy Explorers is set to release in Japan on December 18. To read more about the game, be sure to check out my hands-on preview from Tokyo Game Show here. There is currently no release set outside of Japan.