Join the Famicrew for some talk about Final Fantasy Explorers, Captain Toad and more!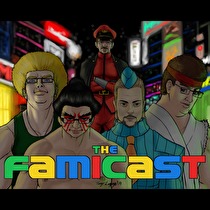 Subscribe via iTunes (Please rate and review, too!)
Hey everyone, here's your mid-month LIVE show brought to you LIVE from Japan! OK, well it's not live now, but it was a few days ago, did you miss it? No problem, we got your covered! You can either watch the full show as a video below (with exclusive visual elements!) or download the audio version as you would normally.
New business starts off with some shared opinions on the newest Final Fantasy game to hit the 3DS here in Japan; Final Fantasy Explorers. It's not the full version (that's not out yet) but SquareEnix released a "light" version to get the hype rolling. Hear our thoughts on the use of the New 3DS's second circle pad, its visual quality, and whether it's a Crystal Chronicles game or not! After that Danny gives his WORLD EXCLUSIVE opinions on March Onwards: Captain Kinopio, otherwise known as Captain Toad: Treasure Tracker, which he recently downloaded from the eShop…via Amazon Japan. The episode then wraps up with news, charts talk, and other exciting new releases here in Japan.
So grab your copy of Chao magazine and head off on the newest Famicast adventure - LIVE!* Now not live.
This podcast was edited by Danny Bivens.
Music for this episode of The Famicast is used with permission from 8 Bit Weapon. You can purchase their music and shirts from their website 8bitweapon.com
Additional music for this episode of The Famicast is copyrighted to Nintendo, and is included under fair use protection.