One Wii U eShop game took most of us by surprise at E3 2013.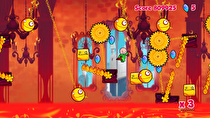 We here at Nintendo World Report seem to usually have a predilection for hard-as-nails platformers. It's not a total staff-wide phenomenon, but if you show us an interesting and challenging platformer at E3, chances are we'll probably include it in some sort of awards. It should be no surprise that Cloudberry Kingdom impressed the hell out of us.
From their Kickstarter origins to their Ubisoft-backed final stretch, Pwnee Studios has put together what seems to be a delightfully difficult platformer that can work for a wide audience.
Check out a bit of Jonathan Metts' E3 2013 impressions for a little more detail:
A year ago, Cloudberry Kingdom had an ongoing Kickstarter campaign, and we spoke with its creators, Pwnee Studios, having never actually played the game before. They're back at E3 this year, but with a near-final multiplayer demo of the game right in the center of Nintendo's giant booth. I've put some time into the Steam beta, but this was my first chance to try the game with other people, and running on Wii U. Good news: this version looks exactly the same, and it clones everything to the GamePad screen for easy remote play. Better news: multiplayer raises the game's appeal to a whole new level.
Cloudberry Kingdom is one of the simplest 2D platformers I've ever played. You move left, right, and jump -- there's not even a run button. The game is fast enough without one, and learning to manage your momentum is actually a key skill. The game's AI-designed levels are each about 5 to 15 seconds long, and their difficulty ramps up constantly as you keep playing. The game "plays" every level to ensure it's possible before loading it up for you; we actually got to see this feature in action on some of the most insane settings, but it's not clear whether the final game will allow this kind of spectator mode (So far, it has been used to cut some of the trailers).