The 3D Land experience moves to Wii U and we dug it.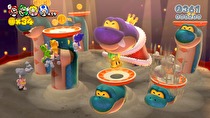 Super Mario 3D World was the long-awaited 3D Mario reveal and while it might not be the epic Galaxy experience we all dreamed of, 3D World's debut was damn impressive. With a number of Super Mario Bros. 2 and Super Mario World references, ranging from the four-players including Peach and Toad to the Mario World goombas, and some fun, inventive level design, most of our E3 team came away mighty impressed with Nintendo's December 2013 Wii U release.
Here's a snippet from Justin Berube's E3 2013 impressions:
Super Mario 3D World is clearly a mixture of Super Mario 3D Land and Super Mario Bros. 2 (USA). This causes the game to feel fresh while at the same time giving Mario fans an experience that is also familiar, especially with the multiplayer mode.
I first played Super Mario 3D World with the Wii Remote on its side like an NES controller. The game's controls were basic. Movement is handled by using the D-Pad, run with the 1 button, jump with 2, and duck with the B Trigger. The only flaw here is that the B Trigger is a bit awkward to press when holding the Wii Remote in this fashion.
Using the Wii U GamePad was much more straight forward. Controlling a character could be done with the D-Pad or the Control Stick. Jump was A, run B, and ducking with Z1. Hopefully the final version will allow players to use Wii U Pro controllers as they would be the ideal way to play this game.