The Link Between Worlds demo is equal parts Link to the Past and new, interesting stuff.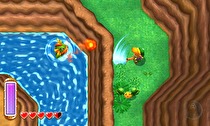 The demo for the newly christened The Legend of Zelda: A Link Between Worlds was very similar to the demo that Carmine played back in April, but it was nonetheless impressive at E3 2013. Wandering around the Link to the Past-inspired overworld, finding secrets and using Link's array of items was familiar and fun, and the snappy combat and puzzles present in the multi-tiered dungeon was wonderful to experience.
A Link Between Worlds was close to a unanimous addition to our best of E3 2013 list, and our E3 team all seem to be anticipating this November 2013 3DS release.
Check below for a snippet from Neal Ronaghan's E3 2013 impressions:
I completely adore how this game plays. Especially after playing another portable 2D Zelda (Oracle of Seasons) recently, it is nice to see the style kind of evolve more. I love the addition of the wall merging (or whatever it is officially called) where Link turns 2D and goes into walls. You can do it anywhere in the game, which is so cool and leads to a lot of possibilities for puzzles and secrets.
Before playing it, I was interested in A Link Between Worlds, but it honestly jumped to one of my most anticipated 2013 releases. The game's action is fast and the puzzles are exactly what you'd want to see in a Zelda game. I'm straight-out stoked for this to come out later this year, during the period Nintendo is labeling as "holiday."