From what we've seen, Bayonetta 2 looks to be more of the same awesome insanity.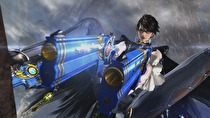 It was somewhat of a shock to see Bayonetta 2 playable during E3 2013, and it was a welcome surprise. The titular character had her new short haircut, but the same frenetic action-packed tricks. The debut demo was more or less the same gameplay present in 2009's original Bayonetta. It highlighted a few new features, including the new Umbran Climax special move and the weird but workable touch screen controls. Bayonetta 2 will hopefully continue to delight when it comes out in 2014 on Wii U.
Check out a snippet from Kim Keller's E3 2013 impressions below:
You see, Bayonetta has a new haircut but apparently kept the hair. This new fashion statement lends itself to Umbra Climax by growing and weaving itself away from Bayonetta's body (with key areas still covered) and opening a portal for a monster to come through and attack your enemy briefly. During the attack you need to repeatedly tap a target for bonus points. Even though this attack option popped up fairly frequently, the lush graphics kept it interesting.
Bayonetta can be moved easily by tapping where you want to go, but that isn't really necessary when battling. Once I tapped a target, Bayonetta automatically moved toward the spot, her distance changing based on the weapon being used. Once killed, an enemy spouted golden rings to collect.