And the number one game is...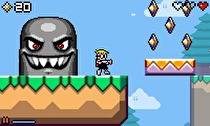 Mutant Mudds is the defining eShop experience that I recommend to everyone that owns a 3DS and the worthy choice of our number one spot. Deciding that this would be the game that crowns all others on the eShop was an easy choice for me. Everything from its visual style, sound design, and gameplay mechanics brings a smile to my face that is unmatched on the 3DS eShop, and perhaps even the 3DS as a whole.
My glowing praise has to begin with the game's music. Retro-themed original tunes are littered throughout the game, and all of them are great. In fact, on one or two occasions I opened my 3DS and left it sit on the menu screen to hear the great song. The character art is similarly fantastic. Its pixelated approach matches the music, and captures the old-school platformer feel.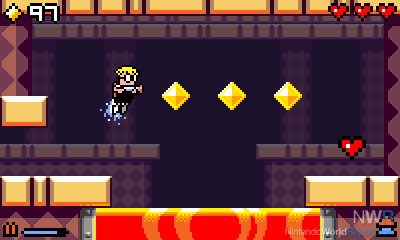 Old-school platformer is probably one of the better ways to describe Mutant Mudds. You run and gun enemies down while carefully traversing the landscapes. While moving about, Max, the main character, can jump into the foreground and background. With the 3D effect turned up on the 3DS this looks gorgeous. The tri-layer effect pronounces the 3D effect better than almost any other 3DS title. Enemy layouts get progressively more challenging throughout, building up to some real devilish levels. Even with its hard obstacles, its hard to complain about the difficulty while you are having so much fun.
Max does get some power-ups that grant him access to bonus areas that offer even more platforming challenges. These area's change up the visuals in favor of something reminiscent of the Virtual Boy or Game Boy.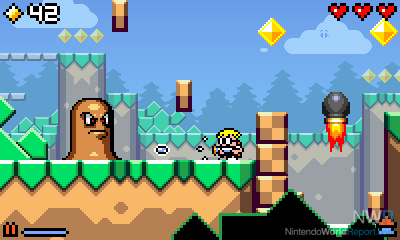 Everything I have described so far only related to the main game. Free DLC was made available this past October that put Max's grandmother behind the gun with all of the power-ups at her disposal. The developer, Renegade Kid, crafted some of the most deviously challenging levels that while frustrating, were completely beatable. Most of the time when a death would occur, it would be your own fault and not bad level design.
Mutant Mudds is a must-have for 3DS owners. It is not an overly long adventure, but it certainly brings back the old-school platformer in a good way. Mutant Mudds well deserves the crown of best 3DS eShop title thus far.