A perfectly suitable name despite itself.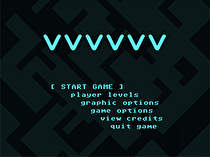 Veni Vidi Vici. Three words that separate the boys from the men. The words name a series of connected areas in Terry Cavanagh's VVVVVV, widely known as its most difficult. Despite the loss of hundreds of lives to it (strictly in the game, although it may drive you to drink), it's the best example of just how gratifying an experience VVVVVV can be.
Jumping in a platformer is expected. When a character like Mario was originally named Jumpman, the expectations from the genre are clear. VVVVVV turns these rules upside down, often literally. You control gravity with the press of a button. At any moment the floor becomes the ceiling, and what was impossible now seems otherwise. Why "seems" possible? Because VVVVVV is a very difficult game.
But that difficulty is mediated by a landslide of checkpoints. This is VVVVVV's greatest strength without a doubt. Many games approach difficulty differently. Lately some titles have earned acclaim for their hard-as-nails designs, Dark Souls chief among them. But I'd still wager that experimentation isn't brought about from that danger. Instead, these games have players play with extreme caution. But VVVVVV allows players to have fun despite this being their 57th attempt. Live springs anew just as quick as death arrives. Your corpse hardly had time to decompose before your back on your feet thanks to your bounty of check points. Progress is rarely lost, so repetition is never a problem. VVVVVV proves you can be hard, but still plenty of fun.
Don't let this talk of death and gravity fool you into thinking it won't be long before this gravity mechanic becomes a gimmick. VVVVVV is far too smart for that. New mechanics are constantly introduced. The solution is never as simple as "Oh, I walk on the ceiling to get pass the spikes and win." Crumbling paths, strings that auto-flip gravity on you, and warp gates are just a few of the wrinkles that distinguish VVVVVV's gorgeous face.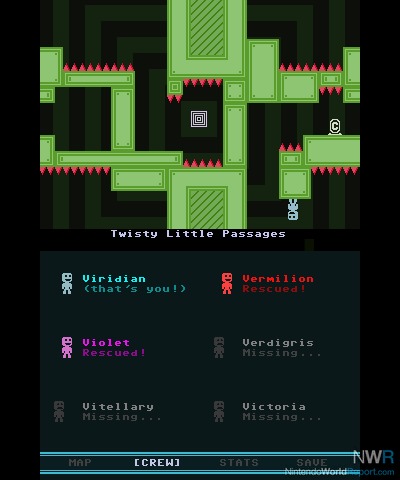 Still not enough? How about a fantastic, chiptune soundtrack that puts your 12-disc Mega Man Remix collection to shame. If it's more game you're after, VVVVVV comes loaded with bonus adventures designed by noted programmers and fellow gamers alike. VVVVVV for the eShop is so full of content, an additional V was under consideration.
VVVVVV is not something that's going to age. It's a year old on the eShop, even older on the PC, but you wouldn't know it. It is so fresh, daring, and imaginative that it will remain so for years to come. Get in on the ground floor so you can tell your grankids you played VVVVVV before it was implanted in every newborn's GameSkull.