Our bottom four 3DS eShop games come from Japan, North America, Nintendo, and more.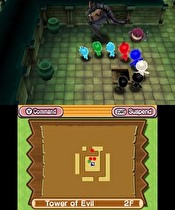 #10 - The Denpa Men: They Came By Wave
The Denpa Men, which only just came out in Europe, is a simplified take on the old-school Dragon Quest-like RPG that is perfect for the eShop. Developed by Genius Sonority, a studio made up of Dragon Quest veterans, the game puts players in charge of wrangling up Denpa Men, who can be captured by using the 3DS camera by a Wi-Fi signal. Depending on the Wi-Fi signal, different Denpa Men can be caught.
These creatures are then used in a simple but occasionally brutal dungeon-crawling experience that is streamlined for portables. You can control each of your eight party member's attacks, or just set them all to Auto to make battles go quicker. While it certainly ramps up in challenge and frustration, if you're a sucker for old-fashioned Japanese RPGs, The Denpa Men is a fantastic 3DS eShop game. And remember, a sequel is already out in Japan and should be coming to other regions soon! - Neal Ronaghan
#9 - Zen Pinball 3D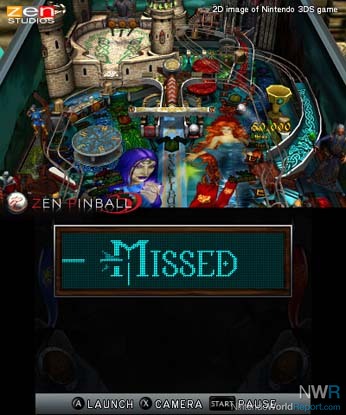 It may not be the best Pinball game on the eShop, but it comes pretty close. Zen Pinball 3D puts other pinball games to shame with its gorgeous graphics and generally unique table designs. Throw in the high scores and you are ready for an all night pinball love affair.
Zen Pinball only has four tables, two of which fall pretty flat. The other two make up for them in a great way. The tables are original designs, not recreated from real-life tables. While there are some elements to the tables that go beyond the norm, you could see these designs existing in real life. These original, unique designs is why Zen Pinball 3D succeeds.
The game is challenging, like real pinball, and will have you competing against your friends for hours. If you were not into pinball before, this may be the game to begin your addiction. - Patrick Barnett
#8 - Crashmo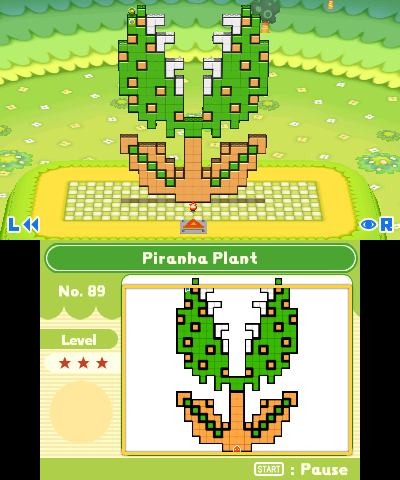 Crashmo is a sequel to Pushmo in the same way Picross 3D is a sequel to Picross DS. It's a similar and familiar idea that is turned on its ear by a few new ways of doing things. While Crashmo didn't quite get its just desserts in our top 10 list (I was outnumbered in my preference of Crashmo to Pushmo), it is still a superb game, adding even more devious ways to interact with all the blocks in the colorful world.
This time around, the focus is much more on spatial reasoning, as the camera can be controlled, and series star Mallo has less restrictions on how he can interact with blocks. The difficulty for this title is ramped up from the already challenging Pushmo, and if you can make it through the game's initial 100 levels without using a guide, you're a much more determined person than me. - Neal Ronaghan
#7 - Cave Story: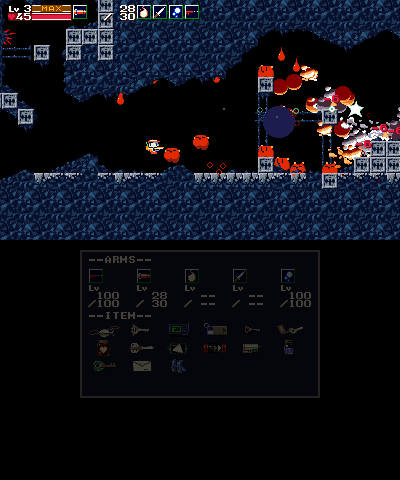 Cave Story is a tale of love. Love for exploration. Love for 2D sprites. Love for exploration. Love for action. Cave Story is Daisuke "Pixel" Amaya's love letter to the world.
Players take control of Quote, a robot sent from the service. His role beyond that is left a mystery, details of which are left to the player to discover. An expanding arsenal of weapons is Quote's tool to make these discoveries, and discovering the right weapon for each situation is always a treat. Cave Story is a breath of fresh air. Venturing off the beaten path will always be rewarding, as exploration will lead to you falling even harder for Cave Story's ways.
No matter how you play Cave Story, it's a fantastic game. But this eShop iteration, developed and published by the folks at Nicalis, is easily one of the best. Pixel's original music and spritework are left in tact, with the perk of widescreen and extra material tacked on for good measure. It's a terrific package, and a steal at its asking price. - Tyler Ohlew