Our next batch of top games contain shooters, puzzles, and more.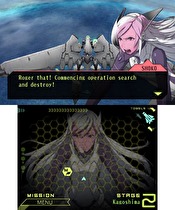 #6 - Liberation Maiden
It isn't long before you're blowing bad guys up in Grasshopper Manufacture's Liberation Maiden. A part of Level-5's Black Box series (and the Japanese collection Guild01), Liberation Maiden is a third-person shooter that casts you as the daughter of the recently assassinated president of New Japan. Guide her and her mech above a futuristic Japan, raining destruction on those that have taken it over.
The game controls similar to Rez, in that you first tag your targets with a lock-on before letting loose the destruction. Players freely move the heroine around, dodging incoming fire and converting militarized areas back to the forested areas they once were (trees will literally burst out of the ground when occupied land is rid of enemies).
Liberation Maiden's greatness comes from its ability to create that perfect balance between action and downtime. Battles become hectic as you paint the many targets around you, with the drama only slowing as you travel to your next war zone. You can gather your bearings, but you'll always be itching to get back into the fray. - Tyler Ohlew
#5 - Marvel Pinball 3D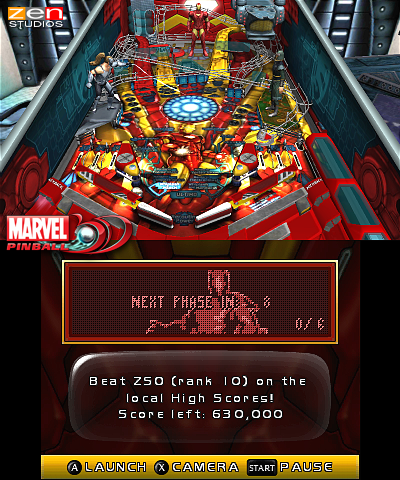 Sometimes more of the same can be a bad thing, but in the case of Marvel Pinball 3D, more of the same couldn't have come any sooner. Just as I was beginning to tire of playing Zen Pinball 3D, Marvel Pinball 3D showed up to deliver the same pinball experience with a fresh coat of paint. This coat of paint did come with four new tables, all of which proved challenging and more interesting than those in Zen Pinball 3D.
Much of what I have written about Zen Pinball 3D holds true for Marvel Pinball 3D, so mechanics wise, the game is functionally the same. However, fans of the Marvel universe are in for quite a treat. Captain America, Iron Man, Blade, and The Fantastic Four all make a welcome appearance. With licenses like these, where could this game go wrong.
I like both of the pinball games on the eShop, I just love this one a little bit more. Its more of the great pinball action I grew to love, with characters I adore, and well deserves a spot in our top 10. - Patrick Barnett
#4 - Pushmo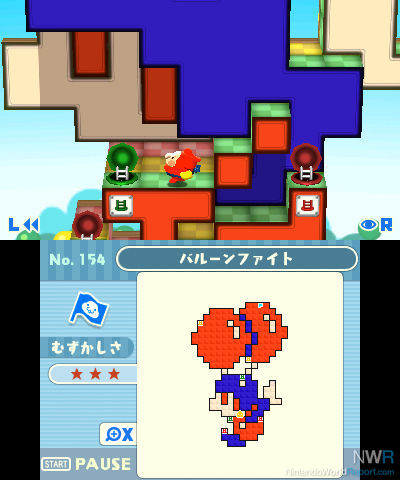 Pushmo was the first eShop game I and probably many 3DS owners ever purchased. It was not the first, but it was certainly the one that grabbed people's attention. Its pick-up-and-play nature coupled with its Picross 3D addictiveness is what keeps this game on the top of my 3DS downloadable library.
The game itself features a huge amount of puzzles, some that will stump you, assuming you are not a super computer. While these harder puzzles are present, the game clearly defines the rules, almost to a fault, making you feel like you always have the tools to win. The solution to any given puzzle can not be seen from the start, but instead must be discovered. This sense of constant discovery makes playing Pushmo a joy.
Take the fun puzzles included in the download and add them to the countless numbers available online through QR codes, and you will be playing Pushmo for hours. I spent hours with it, if you played it I am sure you have to, and that is why it deserves a spot in our top 10. - Patrick Barnett