KART RACING IN THREEEEEEEEEEEEEE DEEEEEEEEEEEEEEEE!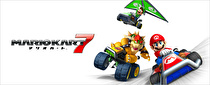 Name: Mario Kart 7
System: Nintendo 3DS
Year: 2011
Innovations: 3D, first person perspective, customizable karts, gliding, underwater racing, collaboration with another development company, NO WALUIGI!
Unlike Mario Kart Wii, Mario Kart 7 is coming out very early in the system's life, which means it can't take the lessons learned in earlier racing games on the system to heart. Still, the new alternate control method, utilizing the system's gyroscope and a first-person perspective, works surprisingly well, and is slightly reminiscent of Mario Kart Wii's motion controls to the point that I tried to shake the system to do tricks.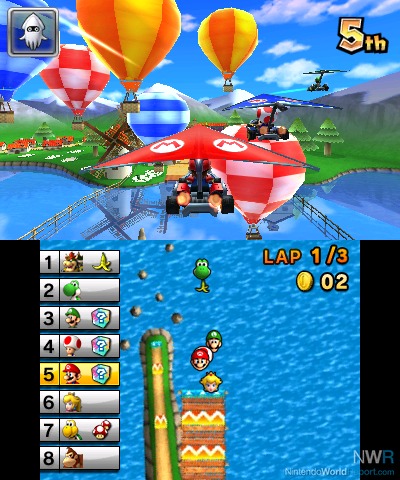 Mario Kart 7 also marks the first time ever Nintendo has collaborated with another development house in the creation of a Mario Kart title. That company happens to be Retro Studios, the same company behind the Metroid Prime series as well as last year's Donkey Kong Country Returns for the Wii. Up until this point, the Mario Kart games have been developed internally at Nintendo, but for Mario Kart 7 Nintendo asked for the help of Retro in order to design the karts and the retro tracks.
Mario Kart 7's bigger addition is arguably gliding and underwater racing. While gliding is fantastic, it feels underutilized, and underwater racing is nothing to write home about as well.
Customizable karts also debuted in this title, but the implementation feels more like a new hat with interchangeable brims. It offers a little more granularity to the kart selection, but it ultimately isn't a game-changer.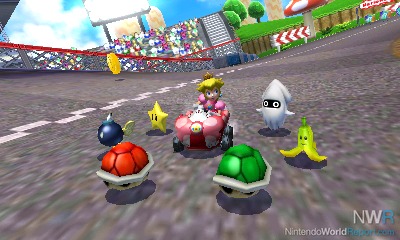 The 3D effect offers a new way to visually experience the game, but much like every other addition to this game, it's novel and not much more.
Then there's the matter of the missing characters. With 17 in total, there are less characters than Double Dash!! (20) and Mario Kart Wii (25). There are 17 racers that have appeared in past games that are simply left in the dust. Of those 17, nine have appeared in more than one game before. The reason behind their disappearance is left unknown, but it does feel odd that Mario Kart 7 is a step back when it comes to playable characters.
Having just been released it is hard to tell if Mario Kart 7 will have the everlasting legacy its predecessors have created. It is expected for it to be a success and to drive sales of the 3DS to new heights, but whether it will have the lasting presence as the other titles remain to be seen.