Does having two characters really mean it will be twice as fun?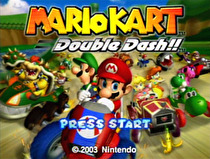 Name: Mario Kart: Double Dash!!
System: GameCube
Year: 2003
Innovations: Two players per kart, unique karts, character exclusive items, LAN play
As was stated previously, Mario Kart: Super Circuit brought very little to the franchise as a whole. Because of that, many tend to pass on it, even if at its core it is a very fun title that retained everything that was great about Mario Kart up to that point. By the time the GameCube was nearing its release, fans were once again expecting another Mario Kart title, and Nintendo promised them that in 2001 when their sizzle trailer for future GameCube games featured a Mario Kart tease of Mario and Luigi lovingly rendered in 3D racing across a road. But this meant that the series would be getting its fourth installment. Nintendo ran the risk of franchise stagnation. Super Circuit did not push the envelope, even if it was the first to ever appear on a handheld, and if Nintendo went ahead with another Mario Kart game that played exactly as the first two, fans would begin to suspect that Nintendo might be running out of ideas. So with this fourth game, Nintendo decided to add at least one new gameplay innovation that would set it apart from the previous three. And thus, Mario Kart: Double Dash made its debut.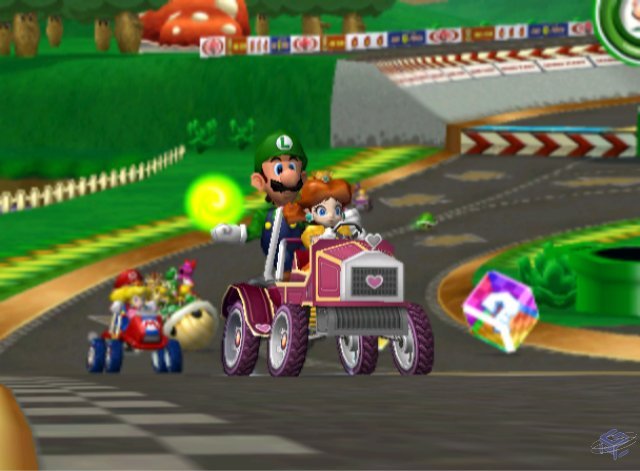 Before the game was even released, fans knew that a Mario Kart game would eventually come to the GameCube. The thing is that when the first tease was released, it looked like the game was going to be the same as the previous games, but with better graphics. Mario Kart: Double Dash was officially announced at E3 2003, and the first trailer for it revealed that it wouldn't be your typical Mario Kart game. For starters, rather than Mario and Luigi racing in their own karts, the two of them shared one kart. One character would do the driving while the other had control of the items that were picked up at the track. As simple as this may sound, Nintendo used it for all its worth.
Several staple concepts of Mario Kart were heavily altered just to include this new mechanic. Character stats were no longer limited to light, heavy and medium. This was still present with the game, but now it affected your second racer as well as the kart that players drove. For example, if players picked a light character and a medium character, they could either pick from a medium kart or a heavy kart. If players picked a heavy character with a light character, only heavy karts could be picked. This would be the first time the Mario Kart series would place important in the vehicle that you drove. Before this, the characters were the focus on the gameplay, it was about which characters players chose rather than the generic kart they were on. With Double Dash, it allowed both players and developers to get creative with the franchise and further borrow from the Mario Kart mythology. As silly as it was to race on a kart shaped like Yoshi, it did add a lot of character to a franchise that was brimming with it.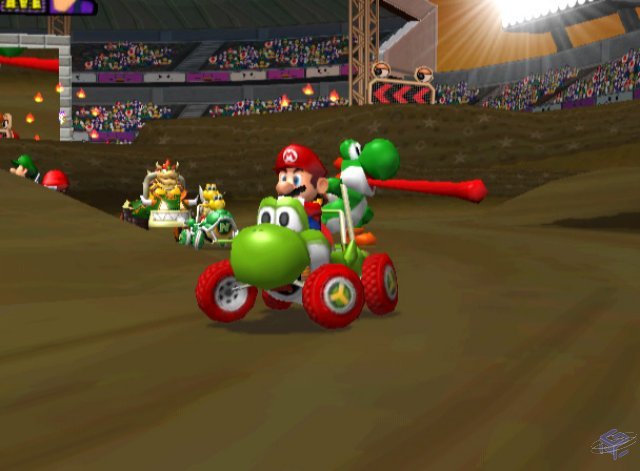 The two-character mechanic also introduced character-exclusive items. Picking up item boxes would sometimes mean that a character would get to unleash his or her unique attack. Bowser, for example, would get to use his giant shell, while Baby Mario and Luigi got to use a giant Chain Chomp. This didn't exactly affect the overall gameplay, but it did create the incentive to pair up certain characters to a player's advantage.
In terms of multiplayer, the classic race and balloon battle modes made a return in Double Dash, along with two new modes. The first of these was called "Shine Thief". It involved capturing a Shine Sprite (from Super Mario Sunshine) and maintaining possession of it for a set time period. It is very similar to the "capture the flag" modes featured in other games. The second, called "Bob-omb Blast", uses only colored Bob-ombs, and utilizes a trade-off point system that requires the players to succeed in attacks, while also avoiding those directed at them.
The GameCube would also mark the first time Nintendo tried to get their feet wet with online multiplayer. Despite releasing a broadband adapter that could be connected to the bottom of the console, Nintendo barely made used it to its full potential. Mario Kart: Double Dash was one of those rare games that tried to utilize it. When an adapter was connected, players could set up LAN parties with up to 16 players, eight karts on eight TV screens, two players on one kart. This features marks the first time Nintendo experimented with multiplayer gaming beyond just four players in a console. It would take them years before they finally brought the franchise online, but Mario Kart: Double Dash made its mark in history as being the game to feature such an ambitious multiplayer mode.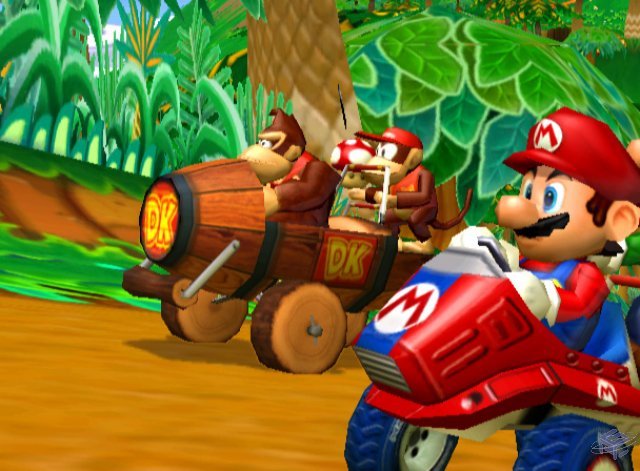 Overall, Mario Kart: Double Dash was the Mario Kart that yielded the most experimentation. It is this quirky nature that has also made it one of the most divisive in the fanbase. Some fans welcomed the game for its innovations, appreciating that Nintendo made the effort to keep the franchise fresh while still keeping it familiar to anyone that played the first three games. On the other hand, the game's changes as well as its small presence limited its broad appeal, resorting to playing the original Mario Karts to get their fix. Many of its innovations would also remain exclusive to Double Dash, as the next two games in the series showed...