An underrated entry with its own set of innovations.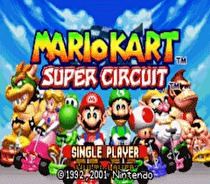 Name: Mario Kart: Super Circuit
System: Game Boy Advance
Year: 2001
Innovations: The first handheld Mario Kart game, download play
It can be debated that the Game Boy Color was actually the first time that Nintendo upgraded the original Game Boy hardware, but it was the Game Boy Advance that completely revolutionized the entire handheld line. It still retained the Game Boy name, but the handheld looked and played very differently from the classic Game Boy systems. The graphics and sound were greatly improved upon, allowing Nintendo and various development companies to bring console-like experiences into quite literally the palms of our hands. Its resemblance to the Super NES in terms of technical capabilities inspired game developers to both port their most famous Super NES games and introduce them to players as handheld experiences and release games that were similar in scope to the Super NES classics. Enter Mario Kart: Super Circuit.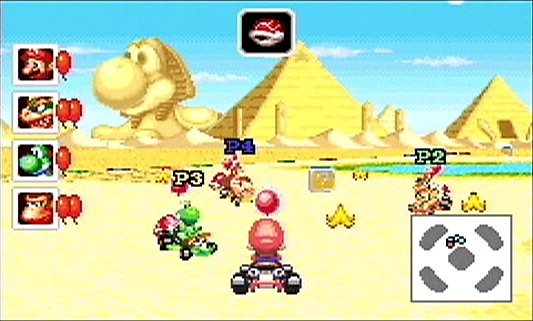 By this point, the Mario Kart series had become one of the most popular for Nintendo, alongside Pokemon, Zelda and Mario. Even with just two entries in the series, those two games were so greatly received that it quickly turned them into a highly respected game series. Nintendo knew this, so that's why when the Game Boy Advance was first announced in 2000 alongside the GameCube the first game they showed for it was a Mario Kart game. The game would eventually gain an official title, and quickly raced onto the handheld just a few months after its release.
Aesthetically, it is a mix of the bright colors and flat track design of Super Mario Kart and the big, detailed characters of Mario Kart 64. Much like Mario Kart 64, Super Circuit doesn't mess with the formula, instead just adding more onto it for a very robust package on the handheld. Super Circuit would also be the first game to present classic tracks. All of the tracks seen in Super Mario Kart were presented here, giving players both classic tracks as well as brand new ones for a lot of options to race through.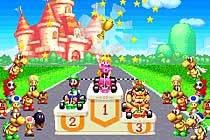 By this point, the Mario Kart series was seen by players a multiplayer heavy one. The single-player modes would indeed have many challenges to conquer, but it was the multiplayer mode that gave the franchise its longetivity. Handheld gaming is mainly seen as a more personal gaming affair, where it is just you and the screen in front of you. How could a franchise that was primarily known for being multiplayer heavy recreate that on a handheld? Nintendo definitely tried, and despite its limitations, Super Circuit is a triumph of handheld connectivity.
Mario Kart: Super Circuit supported four-player gaming. This was done using four Game Boy Advance systems, four copies of the game, and four link cables. This meant a lot of expense to replicate a console experience, but Nintendo completely supported this idea and heavily encouraged players to make such investments. Those that did would be treated to all the features seen in the regular game. Those that didn't could still play multiplayer, but the game would limit its options, including tracks and racers.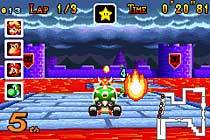 As a whole, Mario Kart: Super Circuit is the Mario Kart game with the fewest innovations made to the franchise. It just took what worked in the previous games and turned it into a handheld game. For that (and its limitations in multiplayer), the game remains less popular than other iterations. Regardless, Super Circuit has a lot of fans. Even if it didn't reinvent the series, it did a good job of translating it for the Game Boy Advance, making it one of the most popular on the handheld.