Graphically revamped, Mario Kart 64's claim to fame was the addicting multiplayer.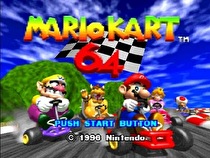 Name: Mario Kart 64
System: Nintendo 64
Year: 1997
Innovations: Four player racing/battle modes, 3D graphics, drifting
Sure, there were a lot of fascinating multiplayer games on the Super NES, but it wasn't until the Nintendo 64 that people saw multiplayer gaming as a grand social event for video game fans. The Nintendo 64's existence was littered with some of the best four-player games ever released. From the shooting action of Rare's Goldeneye 007 to the quirky nature of the Mario Party games, these advancements in multiplayer gaming made the system the preferred console for multiplayer gatherings. One of these games happened to be Mario Kart 64.
When Nintendo created the concept behind Super Mario Kart, they saw no need in drastically changing its concepts for the next iteration of the series. Everything in Super Mario Kart more or less worked, and messing with something that wasn't broken would quickly be the demise of the still-infant franchise. So, rather than completely reinventing Super Mario Kart, they took everything that worked in the Super NES game and translated it onto the 3D hardware.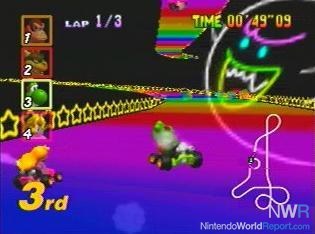 That's not to say that Nintendo didn't implement some new ideas into the game. The core gameplay concept remained intact when it made the transition from the Super NES to the Nintendo 64: Race as some of your favorite Mario Kart characters (each labeled under the light, medium and heavy racer system) through various wacky locales, using items to defeat each other. But the technical prowess of the Nintendo 64 allowed it to fully expand itself so more ideas could be sprinkled throughout.
The tracks were now more than just a flat, rotating texture with small details here and there. These were tracks that were alive and filled with a lot of personality. Luigi Circuit, for example, may just be the standard racing course, but includes everything from a Luigi balloon to a TV screen that replayed the events going on in the course. It was this attention to detail that allowed Mario Kart 64 to set the standards when it came to Mario Kart track design. Since its inception, other Mario Kart games have worked hard to make tracks that are wacky, visually captivating and inviting to players than wanted to play around with shortcuts. So if you enjoy racing around on a cruise ship or on a giant tree in the fall, you can thank Mario Kart 64 for further cementing this idea.
Outside the obvious graphical update, Mario Kart 64's main claim to fame was its four-player mode. This would be the first time the series would see a multiplayer mode for up to four players to participate in. Both racing and battle modes were available for four-player gaming. The multiplayer modes were very intense but notoriously satisfying. With four players running around the tracks, the chances for mayhem and fun were high. Friendships would be heavily tested, and a lot of screams and yells (of both frustration and delight) would fill many living rooms. Super Mario Kart tested the waters, but it was Mario Kart 64 that made the entire franchise a go-to series for exhilirating multiplayer racing action.
Another Mario Kart innovation that first debuted here was drifting. Drifting is when players handle a tight curve and gain a speed boost out of it. This was done by pressing the R button, which caused the kart to hop. If players left it pressed, yellow smoke would appear and the kart would go into drift mode. If players moved the joystick left and right, the smoke would change colors. Once it was the correct color, players would have to let go of the R button, giving the kart a short speed boost. The feature would become integral to racing strategies, and has been in every Mario Kart game since. Drifting would be altered in each game, though, with Mario Kart Wii featuring a weakened version of it.
One interesting thing to mention is that on the same year that Mario Kart 64 was released, Rare released Diddy Kong Racing. This game took everything that worked in both Super Mario Kart and Mario Kart 64 and further innovated with it. The game not only had karts but also planes and hovercrafts, as well as items that could be upgraded during the race. It was also one of the first racing-adventure games where you had to collect balloons in order to complete the courses and further develop the story. Diddy Kong Racing stands as a quirky moment in the Nintendo 64's life cycle. Nintendo heavily advertised the game to fans who had gotten their fill with Mario Kart 64, and despite some healthy sale numbers and critical acclaim, Diddy Kong Racing did not quote dethrone Mario Kart 64 as the Nintendo 64's elite racing title.
Diddy Kong Racing would also mark an important moment in the history of the Mario Kart franchise. They say that imitation is the most sincere form of flattery. Well, Nintendo was heavily flattered that year, as many companies took notice of Mario Kart 64's success and decided to create their own kart racing games. Gamers eventually dubbed it the mascot kart racer genre, as nearly every major franchise received its own kart racer entry, from the Muppets to Crash Bandicoot, to Mickey Mouse and Final Fantasy. If a franchise had cute characters, it was likely that it would eventually have a kart racer under its belt. The concepts displayed in the two Mario Kart games were replicated, and sometimes expanded upon, but they never quite reached the same level of success as Nintendo's own efforts.
Why is this something that should be noted? Well, because it was at this point that Nintendo had an extremely beloved franchise on their hands. Super Mario Kart presented an idea, an idea that worked very well. Mario Kart 64 polished that idea to near perfection and established it as one of the best in the whole industry. From this moment on, fans expected each new Nintendo system to have its own definitive Mario Kart game, and Nintendo would loyally follow that demand for years to come. Such was the presence and power Mario Kart 64 had in gamers.