How the little cube that could connected to the internet.

At the tail end of the summer of 2001, Nintendo officially announced that they would bring the GameCube online with the release of the Broadband and Modem Adapters. Even shortly before the launch of Nintendo's lovable purple box, Shigeru Miyamoto reported to a Japanese publication that there were a "large number of online games in development" and noted that the titles were "secret." Looking back, it is difficult to determine what "secret titles" he was referring to when considering the lack of an online presence from the Cube, particularly from Nintendo themselves. Nevertheless, Nintendo did give gamers the ability to connect to the Internet for online play with some of their games.
The GameCube featured a number of ports, Serial Port 1, Serial Port 2, and the High Speed Port, for expansion of the hardware later on down the line. As for the Broadband and 56K Modem themselves, they attached to Serial Port 1, which was located on the underbelly of the GameCube unit. Unfortunately for Nintendo gamers hoping to jump online with their GameCubes, the release and availability of both the broadband and modem adapters were extremely limited, making them very difficult to find in North America.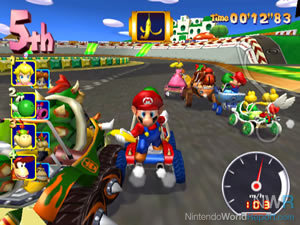 For the lucky few that were able to come across one of these adapters, there was very little content to even use in online play. When the adapters were released in October 2002, Sega graced gamers with a port of the Dreamcast's Phantasy Star Online Episode I & II. Throughout the life cycle of the GameCube, only four titles in total were online and three of them were Phantasy Star Online games from Sega (PSO I & II, PSO I & II Plus, and PSO III: C.A.R.D. Revolution) and the other, Homeworld, was a Japan-only title developed by Chunsoft.
While Nintendo did not bring any titles online, they did still make use of the Broadband Adapter by implementing LAN play in some of their first party titles. Gamers could hook up multiple GameCube consoles locally on multiple televisions to play Mario Kart: Double Dash!!, Kirby Air Ride, and 1080° Avalanche. Nintendo's reluctance to bring any of their franchises online during the GameCube generation inspired outside sources to try and do so. Projects such as Warp Pipe and Xlink Kai allowed gamers to compete online (though it was limited by distance and connection reliability) with the Nintendo-developed LAN-capable games.

Today, Nintendo has a more robust online strategy than what they had during the GameCube era. Although many would argue that Nintendo is behind with their current online implementation, it is clear that they are light years ahead of where they were in the early and mid-2000s. It is odd to see Nintendo almost take a step backwards in the online arena with the GameCube, as the Famicom (Famicom Modem), SNES (X-BAND modem), and Nintendo 64 (N64DD) featured online elements, limited though they may have been. After the GameCube, Nintendo no longer had to rely on releasing peripherals to expand the use of their hardware, or the use of proprietary expansion ports located in various places on their machines. USB ports and built in Wi-Fi have all but killed what was once a main staple of not only Nintendo's hardware, but video game hardware as a whole.