Learn how satellite technology fed Super Famicom gamers content from the mid 90s to the year 2000.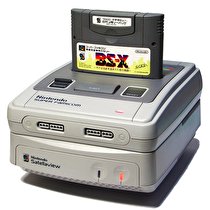 Not long after the cancellation of the CD add-on for the Super Famicom, Nintendo worked on a new add-on for their home console that would again utilize the expansion port located on the bottom of the console. This new add-on, called the Satellaview, was developed and released by Nintendo on April 23, 1995. Dubbed the BS-X (Broadcast Satellite X) for short, this add-on allowed users to connect to a server and receive content that was exclusively available to subscribers. The service was provided by St. GIGA, a satellite radio subsidiary of the Japanese television station WOWOW.
The BS-X originally retailed for 18,000 yen (roughly $176 at the time) and included the following: the Satellaview adapter that connects to the bottom of the console, an L-shaped bracket which supplied power to the Satellaview from the Super Famicom, a Satallaview Cartridge (resembling a Super Game Boy), an 8 Megabit memory pak (which plugged in to the Satallaview Cartridge), an AV selector, and an AC adapter. To use the system, not only were users were required to have a BS tuner to receive the content, they also had to pay monthly fees to both Nintendo and St. GIGA. Unlike modern online capable gaming machines, the main purpose of the BS-X was to receive content pushed from Nintendo and St. GIGA, and many games were enhanced with radio broadcasts, which occurred at specific times.
The Satellaview Cartridge was the avenue for BS-X owners to access all of the content. This interactive menu, resembling a game, was titled, "BS-X: Sore wa Namae o Nusumareta Machi no Monogatari" in Japanese, which is typically translated as, "BS-X: The Story of the Town Whose Name Has Been Stolen." After giving a name to your male or female avatar, the player was free to meander about this virtual town, with each building representing what you can do with the service, such as view online score high score boards, download games and game related content, and even take part in interactive quizzes. Although the BS-X unit contained only 512 kb of on-board memory, the included memory pak allowed gamers to save their downloaded titles and other pertinent data. It is also believed that the BS-X base unit improved the Super Famicom's performance with extra on-board RAM. Throughout the life cycle of the BS-X, several companies released special memory pak-enhanced cartridges, similar to the Satalleview cartridge, that typically held game specific data such as new levels and characters, patches, and expansions.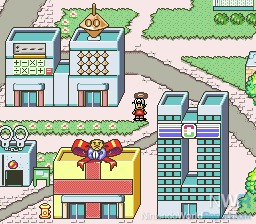 The interactive "town."


The service itself is very unique and has not (and at this point, probably never will) be replicated on a modern video game console. St. GIGA published daily, weekly, and monthly schedules which outlined when specific games would be playable. Depending on the time of day, different kinds of content within each building in the aforementioned virtual town. Not only this, but select titles used a unique feature called SoundLink. Games that used SoundLink were available only at certain times of the day and featured live streaming game audio and live voice acting. For example, in BS Zelda no Densetsu (The Legend of Zelda) and BS Super Mario Collection, live narration coupled with in game art was a way to further immerse gamers into the experience. However, not all games released on the BS-X utilized this feature. There were several different kinds of games that were released on the platform. Other types, such as "Best Selection Games" (re-released direct ports or slightly remixed versions of popular titles previously released on cartridge), monthly event titles (players could compete for high scores and win prizes), and BS Original Games (new games made specifically for the BS-X, sometime episodic in nature, such as a Kirby sports mini-games) were available as well. Service from St. GIGA also offered digital magazines. The kinds of magazines available were game strategies, digital video game magazines (such as Famitsu), comics, cooking magazines, and even SoundLink enabled periodicals featuring popular comedians and pop stars.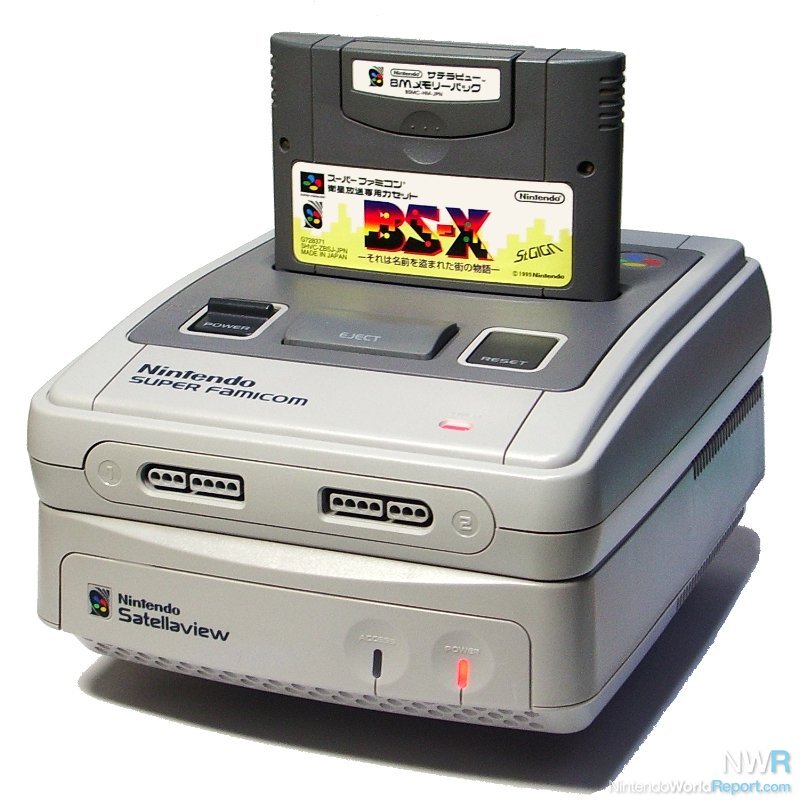 Super Famicom with BS-X unit.


At its height in March 1997, St. GIGA's BS-X service was being broadcast to a total of 116,378 subscribers. The service would be active for several years, even after the release of the Super Famicom's successor, the Nintendo 64. St. GIGA officially stopped broadcasting signals to the BS-X in mid 2000. Not only did the add-on offer interesting and unique capabilities, it also offered many games which will probably never have a chance to be revisited. Games such as BS Zelda no Densetsu (The Legend of Zelda), BS F-Zero Grand Prix, Radical Dreamers, Excite Bike Boom Boom Mario Battle Stadium, BS Super Mario USA Power Challenge, Chrono Trigger: Jet Bike Special are among some of the games and experiences that will be difficult or impossible to replicate without everything that made the Satellaview so unique.
Tomorrow we look at the Nintendo 64. You can expect to see both expansion options discussed.