Before everyone got in shape with Wii Fit, there was a Super NES bike.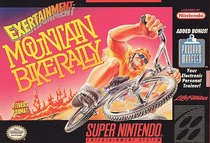 Long before Wii Fit and before Nintendo dreamed of getting their fans off of their couches, Life Fitness, a company known for commercial and home fitness products, introduced an interesting take on exercising. The device was called Exertainment and was essentially an exercise bicycle that had the ability to hook up to the Super Nintendo via the expansion port located on the bottom of the device.
The Exertainment console was roughly the same length and width of the SNES console itself, but not nearly as tall. The unit and the bike itself ran customers roughly $3500 when it initially released. Even if owners of the Exertainment system were not interested in games, it provided a lot of great features for those looking for a high-end piece of exercise equipment. There were several different programs that would simulate hills and races, a summary of results (elapsed time, distance, calories burned, speed), the ability to connect to cable satellite or antenna, a picture in picture monitor, and an option to use headphones or an external speaker.
There were two games designed specifically to make use of the bicycle: Exertainment Mountain Bike Rally and an Exertainment Mountain Bike Rally/Speed Racer combo cartridge. These games could be played with a normal Super Nintendo Controller, or with the exercise bike by using the included controls which clipped to the handlebars of the bike.
Before the eventual demise of the Exertainment platform, other third parties were looking in to creating games for the device. Several other titles, such as a 3D Pac-Man game and a special version of Tetris using the bike was at one time in the works before being canceled. In Tetris, increasing pedaling speed would slow down the blocks. Unfortunately, the ridiculously high price tag doomed Life Fitness's creation before it even got out of the gate.
Nevertheless, it is one of the few third party devices that have made use of the illustrious expansion ports on Nintendo consoles. While one cannot be certain whether or not this played a part in spurring Nintendo and other developers currently to produce exercise games (and even a recent Wii exercise bike), Exertainment certainly has a unique place in Nintendo history.
Exertainment bike picture courtesy of SNESCentral.com.