Today's entries are a little RPG heavy, but we still rock out with vampires to music.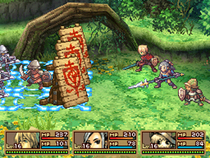 #22 – Final Fantasy IV
by Neal Ronaghan
Final Fantasy IV is a lovingly crafted 3D remake of the Super Nintendo classic. With voice acting, some of the best 3D graphics on the DS, and the same excellent gameplay, Final Fantasy IV is the definitive version of the 20-year-old game.
The game was notorious in earlier incarnations for having a somewhat uneven difficulty. The DS remake fixed that, re-balancing the game, and also adding in a plethora of nice new touches, including the Augment System, which allowed you to teach other characters character-specific moves. Throw in the humorous roles that developer Matrix Software gave the name-changing Namingway (since the game features voice acting, you can't change the character's names), and you have a fantastic DS game that doesn't feel like a remake of a game from 1991.
#21 - Daigasso! Band Bros./Jam with the Band
by Michael "TYP" Cole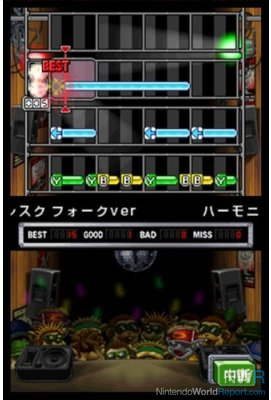 Daigasso! Band Bros. (a.k.a. Jam With the Band) is a 2004 Japanese Nintendo DS launch title that was announced for western markets as Jam With the Band before it was quietly canceled. With the Nintendo DS's somewhat lackluster launch software line-up, Daigasso! Band Bros. was a popular import title for the Nintendo DS. Whereas most music games of the era involved button patterns set to the rhythm of songs, Nintendo's early DS game strived to authentically capture the challenge and enjoyment of composing and performing music.
In Band Bros., the player is responsible for one playing one of several tracks for any given song. Just as in a real band or orchestra, players can select amongst lead, harmony, and other supporting parts such as the drums. All notes are generated on-the-fly via MIDI synthesizers, which means that - just as with a real instrument — when you make a mistake, you hear it; in the hardest mode, the four directions and face buttons map to the notes of a major scale, and the shoulder buttons raise the tone by a half step or octave. Essentially, the DS is transformed into a robust musical instrument. While those without a musical background have at times found this intimidating, the authentic experience of musical creation is a refreshing change of pace from button-pressing "music" games, and one that can be shared with anyone through Download Play.
But as engaging as playing music can be in Band Bros., its composer is perhaps the more fascinating part of the game. Like its predecessor, the Mario Paint composer, the Band Bros. composer is hardly a professional-grade tool. Still, with enough time and dedication players can compose impressive songs and arrangements for up to eight parts, and then play and trade them with friends via Wi-Fi. The sequel, Daigasso! Band Bros. DX, brought user-generated content to the forefront by allowing players to upload songs to and download songs from Nintendo's server.
While Band Bros. was not a breakout hit, its quality — a product of several years in development as a Game Boy Color and Game Boy Advance title — is undeniable. The Japanese import's enjoyable song selection, composer, and worthwhile GBA cartridge expansion pack gave this title immense longevity and a cult following. And more recently, the European release of the sequel has attained a similar status. Whether you're talking about the Japanese original or the localized sequel, Jam With the Band is amongst the best games on the system.
#20 – Castlevania: Order of Ecclesia
by Zachary Miller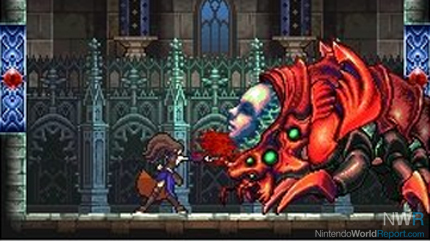 Back when I reviewed this game, I called it a "post-Symphony Symphony," referring to the Castlevania game that quite literally changed the game: Symphony of the Night. My enthusiasm may have been a little overzealous at the time, but Ecclesia does take some important steps away from the traditional Metroidvania formula that has been a mainstay of the series since its early PlayStation days. For one, you're playing as a heroine (Shanoa) rather than a hero. She doesn't use weapons in the traditional sense, as every attack you use is tied to Shanoa's MP meter, which forces you to think strategically about your loadouts, of which you can have three, swappable at any time. Instead of one gigantic gothic castle, Shanoa wanders through distinct levels that increase in size as she gains powers.
Ecclesia is also the hardest Castlevania game in decades. Bosses are absolutely unforgiving and will brutally test your hand-eye coordination and pattern recognition. Even the early monsters seem way too hard. You'll be struggling to escape just as often as you'll be fighting early on. And it's not like the game gets any easier as you level up: the enemies and bosses scale in difficulty. One boss in the game's final area proved to be one of the toughest video game bosses I've faced in years…on any system.
While not for the faint of heart, Order of Ecclesia is by far one of the best in the post-Symphony series and an excellent action platformer that every fan of the genre would do well to experience.
#19 - Radiant Historia
by James Jones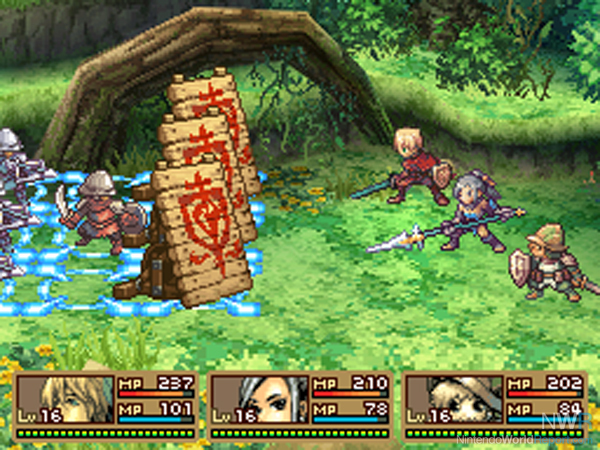 Radiant Historia inspires a deep nostalgia for classic RPGs of the 16-bit era. Drawing on elements from classics such as Final Fantasy VI and Chrono Trigger, Radiant Historia manages to feel fresh by creating a unique time travel mechanic and weaving it into a compelling story. An RPG you can truly play at your own pace, Radiant Historia uses the ability to traverse two interlocking timelines to set the player on seemingly endless quests in a way previously most effectively illustrated in Majora's Mask.
The game is clearly the product of a deeply devoted development staff. The soundtrack is amazing, the world is diverse, the characters are outstanding, and the story is nuanced. The developers' efforts have produced what is likely the last great DS RPG.