What is our staff's favorite DS game?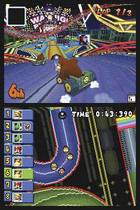 Mario Kart DS
The first year of the Nintendo DS found great games arriving few and far between. Though there were a few gems in the first year of the DS's existence, it was not until the fall of 2005 when Nintendo unleashed the big guns. After the somewhat underwhelming Mario Kart: Double Dash!! on the GameCube, Nintendo went in a different direction with Mario Kart DS. This time around, Nintendo did not rely on a gimmick to push their latest incarnation of Mario Kart. Instead, they went back to the basics of what made the Mario Kart games excellent in the first place – stellar control, awesome multiplayer, and a great lineup of characters from the Mario universe. Nintendo hit the nail on the head and released one of the greatest games in the history of the franchise.
The core mechanics of Mario Kart DS have not changed much from the previously released Mario Kart titles. This, however, is definitely not a bad thing considering how well the games in the series control. The controls are simple, but the continued addition of the speed boosts (snaking) can really change the way that the game is played. In the higher engine class races, mastering this technique is essential as it can give you a bit of an edge while facing the ridiculously difficult computer-controlled racers. The game also makes use of the second screen by providing players a bird's eye view of the immediate proximity on the map.
| | |
| --- | --- |
| | |
Perhaps the biggest addition in Mario Kart DS was the inclusion of online play. This marked the first time in gaming history that Nintendo brought one of its biggest franchises online for competitive play. The result, while a little clunky thanks to the friend code system, was a wonderful addition to the franchise that set a precedent for Nintendo's jump into the online gaming space. Nintendo also allowed up to eight DS owners to play the game via DS Download Play, or through multi-card wireless LAN.
Mario Kart DS helped push the Nintendo DS from the "third pillar" status into prominence and went on to become one of the best-selling DS titles worldwide. The addition of online play really started to show that Nintendo at least somewhat was starting to acknowledge the popularity of online gaming. On top of that, the exceptional controls and challenging gameplay make Mario Kart DS not only a great racing game, but an exceptional experience that all DS owners need to take part in.