Will you object to this entry?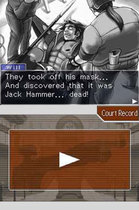 Phoenix Wright: Ace Attorney
Unlike most games in this list, Phoenix Wright: Ace Attorney isn't definitively a Nintendo DS game. It was originally released as a Game Boy Advance game in Japan, and can now also be purchased on WiiWare and other mobile platforms. But Capcom's Nintendo DS remake is what made Phoenix an international sensation. Somewhere between an interactive novel and a traditional PC-style adventure game, this courtroom drama's cleverly crafted puzzles, characters, and writing provide for a thoroughly amusing and engrossing experience.
The first Ace Attorney game introduces the world to Phoenix Wright, an inexperienced defense lawyer who bumbles his way through cases by the skin of his teeth to prove his clients' innocence. The game has a strong anime/manga influence, often featuring over-the-top caricatures and animations. Yet it maintains a wider appeal through its thoughtfully presented dilemmas, witty and surprisingly well-localized humor, and masterful storytelling. The rapport between Phoenix and his far more professional rival, Miles Edgeworth, is brilliantly executed throughout, and gives the series—especially the original—its own, distinct aura.
Although Phoenix's investigation sequences are at times obtuse, fantastic writing makes exploring crime scenes and meeting witnesses thoroughly enjoyable, even when you aren't making progress. Players are charged with finding evidence and collecting clues by poking around the environments and talking with witnesses. Investigating worthless sections of the environment and selecting incorrect dialog choices frequently triggers amusing observations or humorous reactions from the game's cast of characters.
| | |
| --- | --- |
| | |
The courtroom scenes are even better, as they are more quickly paced and require the player to pay careful attention to identify contradictions or ambiguities in testimonies. Yet even when approaching testimonies from the wrong angle the game provides enjoyable banter: presenting irrelevant evidence, unnecessarily badgering the witness, and selecting (sometimes obviously) incorrect dialog choices often results in the witness, judge, or prosecutor making sly remarks at Phoenix's expense. It's all good fun, and remains engaging even over several hours of consecutive play. Even after Phoenix and the player discovers or deduces who the true culprit is, the game masterfully crafts suspense in how Phoenix will trap the case's slippery guilty party and unequivocally reveal his misdeeds in court.
Phoenix Wright: Ace Attorney is near the top of many DS owners' lists, and it's not hard to see why. While the entire Ace Attorney series is enjoyable, the first entry is especially remarkable for its novelty and quality localization. In addition, the inclusion of a lengthy additional chapter for the first Nintendo DS remake results in a meatier package. This game also demonstrated a market for text-heavy adventure/puzzle games in western territories on Nintendo DS, arguably paving the way for international releases of games such as Professor Layton and Hotel Dusk. Besides, it's just plain fun to yell, "OBJECTION!"