The bottom entries in our Top 30 are still incredible, featuring puzzles, tests, and Zelda.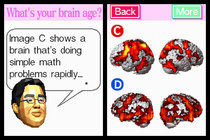 #30 – Henry Hatsworth in the Puzzling Adventure
by Jonathan Metts
After Capcom abandoned the Mega Man ZX series on DS, choosing instead to continue the original series on console download services, who could have predicted EA to deliver the best (and hardest) action-platformer on Nintendo DS? Even the suits at Electronic Arts would have scoffed at the idea a few years ago, but a rogue team of developers in Florida put together a gameplay demo so weird and compelling that even a conservative publishing house like EA couldn't ignore it. Time after time, giddy game critics returned from press events enthusiastic not over the latest Madden or Need for Speed, but this little dual-screen hydra called Henry Hatsworth. After all, it's not often you find a game that asks you to play in two separate genres, simultaneously.
Juggling action on the top screen and classic puzzle gameplay below proved to be the least of players' concerns, as Henry Hatsworth delivers exhausting combat sequences, powerful bosses, and some of the nastiest platforming this side of Super Meat Boy. While some gamers found themselves stuck on the peaks of a questionable difficulty curve, the persistent and skilled few discovered a magnificent hodge-podge of game design and humor that could only exist on Nintendo DS.
#29 – The Legend of Zelda: Phantom Hourglass
by Andrew Brown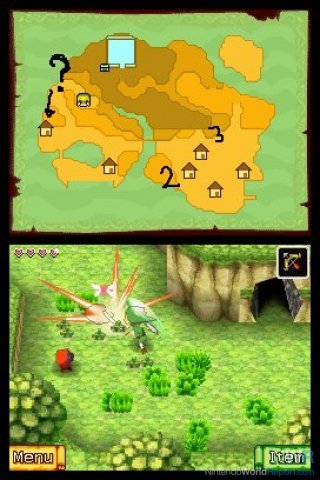 A direct sequel to Wind Waker, Phantom Hourglass saw Link accompany Tetra and her band of boisterous buccaneers across the Great Sea in search of a land to become New Hyrule. They come across a ghost ship into which Tetra is quickly abducted, and Link sets off in pursuit.
Returning to a classic top-down view of the game not seen since Minish Cap on Game Boy Advance, the controls were handled entirely with the stylus in a unique combination of touching and dragging where you wanted Link to move to, and quick swiping in front of him to slash with his sword. Phantom Hourglass added the ability to draw on the dungeon and overworld maps, allowing the player to keep track of clues and special locations while solving visual-based puzzles. Players even got to play the role of cartographer, and chart out their own map for one of the game's islands.
Also new to the series was Captain Linebeck, the greedy, drunken, cowardly, treasure hunting rogue who joins Link on his quest and lends the use of his ship to sail around the game world. Needless to say, Linebeck is one of the most awesome characters to appear in the entire series.
#28 - Meteos
by Jonathan Metts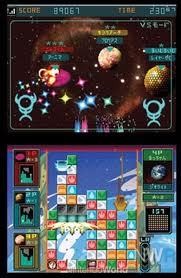 After Masahiro Sakurai finished Super Smash Bros. Melee, he left HAL Labs and ended up developing this game, in cooperation with Tetsuya Mizuguchi (Rez, Lumines, Child of Eden). The result is a puzzle game like none other. Meteos looks like a typical match-three block game, similar to Puzzle League (Panel de Pon), until a matched set ignites and launches upward in rocket-like fashion. This is, in fact, one of the first physics-based puzzle games. You must not only sort through falling blocks, but also build a strategy to overcome gravity itself.
The magic of Meteos lies not only in its innovative gameplay but also the diverse presentation. Each "planet" offers different gravity and blocks, as well as a unique art theme and song. The extensive soundtrack is largely electronic. A clever unlocking system requires payment of certain blocks, and most of the required combinations have to be gathered from multiple planets. It's exciting to open new planets, and thus worthwhile to collect all those blocks, because each new level refreshes the game in a new and often surprising way. Consider the extensive multiplayer features and bonus modes, and it's easy to see how Meteos earned its reputation as one of the first must-have DS games.
#27 - Brain Age
by Josh Max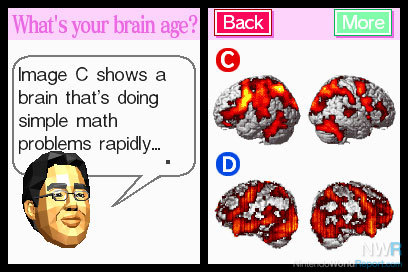 "Train Your Brain in Minutes a Day" has never sounded so appealing. Brain Age made millions of people return to their Nintendo DS daily to play Brain Age and train their brain just a little bit more everyday. With puzzles and problems that seemingly had no end, along with some Sudoku, Brain Age kept players coming back for more.
Getting your brain age down to 20 was a challenge! There was no way you could beat the game, only besting it a day at a time. This didn't necessarily hinder the game, because there was still a goal in mind, but there was no definitive end, which was awesome. Brain Age is a great game that some people, myself included, still play today.