Check back every Friday until the game's release for behind-the-scenes info.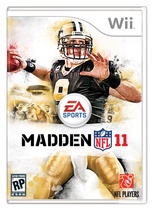 Back in May, I had the chance to check out Madden NFL 11 on Wii down in Orlando, Florida at EA Tiburon. As you might know, Tiburon is adding a whole bunch of new features and refinements. After speaking with members of the Wii development team, I came away with a truckload of information to sort through and digest. Over the next few weeks, I'll be shedding light on the development process of Madden NFL 10 and 11.
You will get the answers to such burning questions as "Why did they change the art style?" and "What was up with the locked franchise mode?" as well as insight into the brand new franchise mode that is being introduced in this year's game.
Check back every Friday until the game's release on August 13 for a new article about the Madden series. Next week we'll discuss the history of the series on Nintendo platforms, and subsequent articles will focus on the art style, gameplay changes, and franchise mode in this year's game.