There might not be any more Tiger Woods, or any other game for that matter, but come August, Madden will be on Wii again.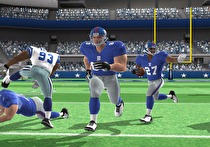 Madden NFL 13 is coming to Wii this August, according to a tweet by @wiimakemadden, the official Twitter account of the Madden Wii development team. We have reached out to EA Sports for a 100% confirmation of the news.
With the current slate of Wii games dwindling more and more by the day, the game's release comes as somewhat of a shock, especially coming off of the heel's of Tiger Woods' absence on Wii this year.
Madden NFL 13 might have the distinction of being one of the last games released for Wii, as this year's title is expected on August 28, and Wii U, Nintendo's next console, is coming out in the second half of 2012.
The title will be the fourth version of Madden developed specifically for the Wii by a team at EA Tiburon. The previous three iterations of Madden on the system were motion-controlled ports of the PlayStation 2 version.
Thanks to Soren for the tip!