Evan Bitchfield is back... next week! (Maybe)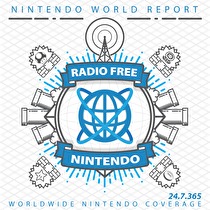 Subscribe via iTunes (Please rate and review, too!)
Round 2... FIGHT!


Even though I'm all the way in Atlanta this week, I managed to find a Wi-Fi signal long enough to record RFN! Joining me this week are Mike and Windy, so you know there's going to be another argument about Nintendo and third parties.
Aside from that, though, we discuss the recent announcements at the Smash Bros. website, speculate on Guitar Hero III, and argue over whether or not Pokémon would make a good MMO.
We didn't get a lot of listener mail this week, folks, so I implore you: SEND US MORE MAIL! Mike has promised to read the first email sent out after this episode goes live this week, so whatever you want read on RFN will be. It's up to you!
Until then, have a great week, everyone.
Credits:
This podcast was edited by Karl Castaneda.
Music for this episode of Radio Free Nintendo is used with permission from Jason Ricci & New Blood. You can also purchase their album directly from the iTunes Music Store