In this episode of RFN, Mike and the gang discuss everything from Manhunt on Wii to using Cranium to attract the opposite sex.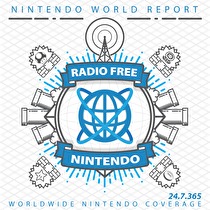 Subscribe via iTunes (Please rate and review, too!)
If you only listen to one podcast this year, listen to this one. Then break the rules and listen again.


Although Mike is technically the only one of us with a girlfriend, everyone present goes to task during the feature section, giving you helpful tips and anecdotes on how to use your games to score chicks. If you've already got a girlfriend, though, be sure to pay attention when we talk about "relationship-friendly" titles - surprisingly, such a catalog is more robust than you'd think.

When we're not ranting about the infinite usefulness of Cranium, though, there's tons else to listen to, from Guitar Hero coming to Wii, the AIAS Award Winners, Listener Mail, and more. Also, be sure to listen in for a new code word to use for our DS Lite contest.

Credits:

This podcast was edited by Karl Castaneda. Commercials performed by Steven Rodriguez and Karl Castaneda.

Music for this episode of Radio Free Nintendo is used with permission from Jason Ricci & New Blood. You can also purchase their album directly from the iTunes Music Store.