We're just a couple of months out from 3v3 phone Pokémon action.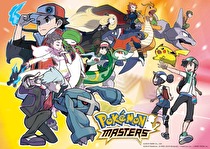 The Pokémon Company have released a new trailer and some details about the upcoming Pokémon Masters game.
Masters will be set on the artificial island of Pasio, and will see trainers from all of the main Pokémon games form Sync Pairs with a single trademark Pokémon. Teams of three Pairs will compete in a Pokémon Masters League. The battles will be real time, with Pokémon using attacks on a cooldown and the trainers providing healing and buffs.
65 pairs will be in the game to start with more to be added later. All battles will be PvE, and Masters will be free with items of some description to be purchasable ingame. Masters will release this summer on iOS and Android.