A very fishy mode is coming.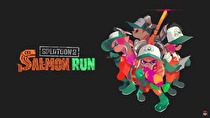 Splatoon 2 will be coming this summer with new modes and Amiibo.
Today's Nintendo Direct showed a new mode called Salmon Run, in which four players team up to hunt for eggs that can be cashed in for new gear by killing salmon. A lifesaver mode which serves as a respawn point was also shown.
Splatoon 2 will launch on July 21, along with a new series of Splatoon 2 themed Amiibo. This version's Amiibo can store a clothing set and weapon for easy transport in multiplayer settings.