"Clearly a murder most foul. This Marowak was wielding a Thick Club."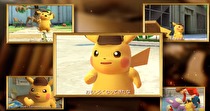 A concept first shown by the Pokémon Company nearly two and a half years ago has become a 3DS eShop title in Japan.
Detective Pikachu ~Birth of a New Combination~ will release in the Japanese eShop next week for 1200 yen and can be preloaded now. The price will increase to 1500 yen on February 29. The story stars a Pikachu capable of human speech who is working with a young man named Tim Goodman to solve various mysteries around the city.
The game is described as a "cinematic adventure game" in the Nintendo Topics for the game. As of yet, there is no word of an international release.