Just interested in actual players? You are in luck!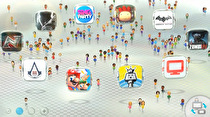 Nintendo has come out of the gate with a new slew of Miiverse updates and this time it mostly makes sorting various content aspects easier.
Through a dedicated Player Posts button at the top of a community, users can now only see people who own the software. If you look back at your personal posts, you will now find that the ones with spoilers now feature a special mark above the message.
Players are also now able to more quickly unfollow people on the Miiverse service. In the list of people you follow, there is now marker next to their name with which this is possible. Finally, you will see no longer posts of people you block. Posts from blocked users still appeared in the various communities across Miiverse, which is now no longer the case.