If you don't like it, you should put a ring on it… oh crap, now Beyonce's gonna sue me.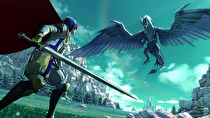 Last month we got the confirmation of the inevitable when the Expansion Pass for Fire Emblem: Engage was shown - and the chief content in part 1 is two new Emblem Rings, one of the Three Houses house leaders and one of Tiki. With that in mind, what other characters from Fire Emblem games past could be coming down the Season Pass pipe before the end of the year? Let's find out.
Note that I'm including only main Fire Emblem games as confirmed by Masahiro Sakurai in the video where Byleth was announced for Smash Ultimate, so Heroes counts but Tokyo Mirage Sessions doesn't - and Three Hopes counts since it has its own entries in the mobile game. (I guess you'd call it FE17.5?)
Is there someone bloody obvious that we're missing? Think you can come up with a way to make the Gatekeeper utterly broken, or maybe you want to justify the existence of Batta the Beast? Leave a comment in the Talkback.
All character art used is from Fire Emblem Heroes, as stored on GamePress