Join the NWR staff as we look deep into our imaginary crystal ball.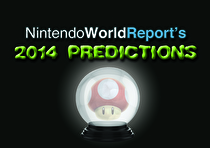 Welcome to Nintendo World Report's 2014 Predictions. In this Feature you will see different staff members take a stab at some of the things they expect to see happen in 2014.
Many of these predictions will surely be wrong, but this is also where everyone can lay down their chips and potentially gain bragging rights for making a correct guess. It's all part of the fun and will surely be a great re-read by the end of 2014, likely to be full of laughs by that point.
So join us by commenting on our predictions, or by sharing your own, in the Talkback section below. You might just be able to tell us, "I told you so."