Yes, more heroes.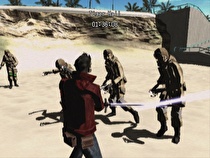 No More Heroes is the game that put Suda 51 on the map. Sure, he directed Killer7 and some other games before that, but if one game made him a known quantity, it's NMH. It's easy to see why: despite borrowing elements from a bunch of other works, No More Heroes is a game no one else has done before.
An open-world hack-and-slash game, No More Heroes stars Travis Touchdown, an otaku and a pro-wrestling fan who wins a beam katana in an online auction and, upon running out of money to buy video games and wrestling videos, decides to take on an assassination job for money. Upon completing said assassination, though, he discovers that doing so places him in the 11th rank of a governing assassination association, and decides to work his way up to the coveted top spot. This involves completing a series of around 10 boss battles, which you do by challenging the assassins after murdering a hoard of their minions.
The ridiculous assassins are the game's main draw; their ranks include a Native American karaoke singer with a gun of gold and a 76-year-old woman wielding a massive energy cannon. Each boss fight takes place on a unique battlefield, and requires equally unique tactics to win. One boss, Bad Girl, launches condemned criminals at Touchdown using a baseball bat, and requires careful responses to her attack patterns. Another, Speed Buster (the previously mentioned old woman), is completely invulnerable; until her cannon is decommissioned, you can only reach her by running through alleyways and buildings to dodge her attacks.
However, earning the right to fight one of these bosses requires meeting a steep entrance fee. To earn the necessary money, Travis can participate in side-missions (such as killing a plethora of minor enemies as fast as possible) or one of many chore-like mini-games. These activities are a lot of fun to play, though, and their inclusion helps prevent monotony throughout the game.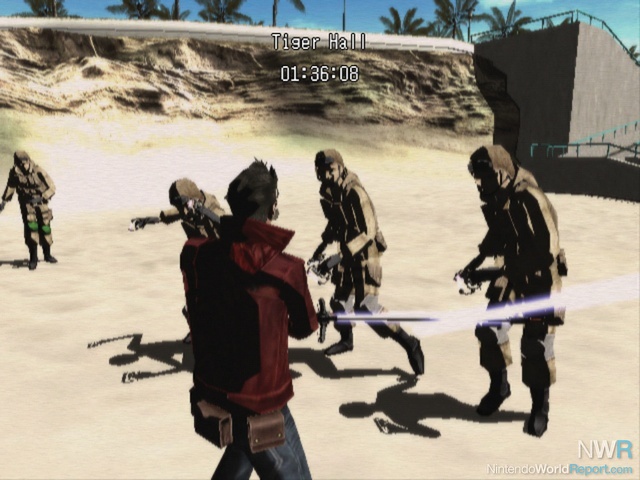 No More Heroes also diversifies gameplay in other ways. You can comb the massive city of Santa Destroy to discover all the hidden collectibles outfit Travis with extensive clothing options and styles, and even upgrade his moves with a more powerful or energy-efficient beam katana or new wrestling moves.
Though its genre has been more "by the numbers" in recent years, No More Heroes' twists on the hack-and-slash formula make it stand out. In addition to using the Wii Remote to slash with Travis' beam katana, you can pull off various wrestling moves (my favorites) by making an enemy vulnerable. In addition, getting enough hits on an enemy allows you to swipe the Wii Remote in a non-screen direction to slice weakened foes into bloody bits. These gameplay traits are only two of the many variables that keep NMH's combat diverse and interesting, though. For instance, Travis may find his katana running low on energy; to recharge, the player shakes the controller in a masturbatory manner as Travis does the same to his katana on-screen.
No More Heroes earns its place on this top 10 list through its level of style, unheard of in any other game on the console. Its quirky humor, gleeful attitude toward violence, excellent boss fights, interesting story, and absolutely fun gameplay make Suda's baby stand out among hundreds of other Wii games. To say the game carries a mantra of style over substance simply misses the point: in No More Heroes, the style is the substance.