Spookily good.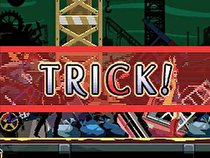 When it wants to be, Ghost Trick is a captivating piece of short fiction, complex in plot, dense with character, and a little dark. Then, when the time comes for things to happen and plot points to play out, it's an intuitive puzzle game, with a slick presentation and an eye for detail. The game's strength lies not only in its ability to pull each concept off individually, but also in its congruous pairing and intertwining of the two.
Ghost Trick's ethereal detective story revolves around the recently deceased Sissel searching for the answers behind his death, an experience that has seemingly imbued him with the power of ghostly manipulation, which he relies upon to (repeatedly) save the lives of others involved. The mechanics of his physical fiddling are simple—hot-swapping your essence between and interacting with inanimate objects in a confined space to spark Rube Goldberg-esque sequence of favorable events—but are endlessly inventive, comfortably taxing, and always come with a rewarding resolution. Experimentation is encouraged, and with a dynamic hint system and generous checkpointing, failure is rare and mostly inconsequential. That said, observation and a certain amount of planning are key in many situations, which end up being the most thoroughly rewarding.
| | |
| --- | --- |
| | |
Sissel's work isn't isolated, though; his tricking involves and is often predicated around the unwitting participation of a number of colorful personalities, each with a well-written reservoir of dialogue. Characters are unique and clear in their eccentricities and often-humorous and memorable styles of speech, including many of the bit players who might not factor into anything outside of their respective scenes. Each also has a body of strikingly organic animations, which lend even more of a human weight to the proceedings. Though the pixel art is respectably detailed, still shots don't do the astounding fluidity of the presentation justice.
Ghost Trick's truest success is its seamless coexistence of story and gameplay; at times, they're more or less inseparable, though one never obscures the other. The narrative arc, while initially straight forward, stretches, broadens and touches back upon itself in ways that should seemingly undo it, but end up strengthening and creating a greater resonance for the events, and by its end, the impact of every action is properly documented and undeniably felt.
Despite its aesthetic and notably clever writing, the game is also deceptively heavy at times. Ghost tricks require ghosts, and ghosts require death, which the story is riddled with. It comes frequently, and is often gruesome in a veiled way. With such disparate themes running parallel to each other, it's easy to see where Ghost Trick could get a lot of things wrong tonally, even mechanically. And yet it doesn't, balancing the levity, gravity, and functionality it presents with ease and crafting one of the best gaming experiences of the year.