The whole crew (plus one extra) assemble for an super-extended episode to ring in the new year!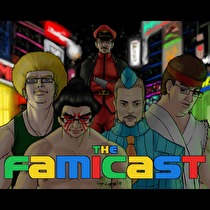 Subscribe via iTunes (Please rate and review, too!)
As a fond farewell to 2011, the whole original Famicast crew of JC, Danny and Matt team up with Japan gaming aficionado 'NintenDaan' Koopman for an epic 3-hour Famicast!
First off is a taste of a traditional Japanese Christmas, listen and learn exactly how Santa AKA 'Annual Gift Man' enters the houses of Japanese children, despite the lack of chimneys.
New business covers all the big games you'd expect, plus Danny earns his middle name by spilling the beans on his latest eShop endevour, Sakura Samurai.
Daan gives the details on the lastest Taiko drum game, a Wii game that no one outside of Japan will be playing, despite the enticing commercials it has.
In Japan news, that Miyamoto thing, the Circle Pad Pro and the 3DS system update all get a look in - just how many new hats and puzzle pieces do the guys have already?
Moving into the final hour of the podcast, JC tries to emulate TYP with his version of Radio Trivia, a segment that was planned as a backup for the live Telethon hour but was never used - until now!
Wrapping up, all remaining listener mail from the previous show is answered, topics include Animal Crossing, the future of Metroid, dual audio tracks and real live Tanukis!
Surprisingly, onsens are barely mentioned at all!
As always please send us interesting questions in preparation for the next show in the new year to famicast@nintendoworldreport.com
We'd like to apologise for the less-than-great quality of Matt Walker's audio track. A lot of time was put into improving it as best we could, and we will strive to make improvements for the next episode. We sincerely hope it doesn't affect your enjoyment of the show.
- Famicast Team

This podcast was edited by Danny Bivens & James Charlton.
Music for this episode of The Famicast is used with permission from 8 Bit Weapon. You can purchase their music and shirts from their website 8bitweapon.com
Additional music for this episode of The Famicast is copyrighted to Nintendo, and is included under fair use protection.