Streaming 3D videos not your thing? Now you can go on a 3D date with Itsu no Ma ni Terebi!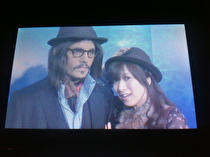 It's another week on the eShop in Japan. There are some real treats here this week thanks to Itsu no Ma ni Terebi and the eShop. Check it out:
3DS Downloadable Titles
ARC Style Simple Mahjong – 500 yen
Virtual Console
Trip World - 400 yen
Video Content
The two hottest games coming to the 3DS in December, Mario Kart 7 and Monster Hunter 3G, have new streaming 3D trailers up on the eShop. The Mario Kart 7 video shows off many of the new tracks that will appear in the upcoming title and also shows off some of the new power-ups, mainly focusing on the Tanooki Tail. Capcom has also uploaded a new 3D trailer showing off underwater segments of Monster Hunter 3G, as well as some of the more impressive looking large creatures.
Itsu no Ma ni Terebi has a new program on the application called, "Mainichi 3D Date," or "Everyday 3D Date." I can tell you honestly that the show might be more warped than you are even thinking. Basically, you are on a virtual date with a Japanese idol. In one of the more recent episodes I watched, you "meet up" with the girl in Odaiba (a popular place in Tokyo for taking a date). From there, you walk around while she tells you about the area and her "secrets," which turn out to be mainly her just telling you that she likes a particular area in Odaiba. There are occasions in the video when you even have a chance to have pseudo-interaction with the idol, as she falls down ever so gently and needs help getting up. She reaches her hand toward the screen giving you a chance to reach out and "help" her back to her feet.
Itsu no Ma ni Terebi is home to a lot of strange stuff, but this by is the most awesome/weirdest addition that I've seen. Below are some pictures I snapped during the latest episode, which takes place at a wax museum. The show is actually a part of the new scheduled lineup as well, so 3DS owners in Japan can go on dates Monday through Friday.
Software Impressions
This week, Trip World, a 2D side-scrolling platformer originally released on the Game Boy, came out for the 3DS Virtual Console. Originally released by Sunsoft in Japan and Europe in the early 1990s, the game puts the player in control of an odd bunny-like character named Yacopu as he looks for a special flower of peace to bring his land to tranquility. 400 yen for a platforming title that I've never heard of was not nearly enough to push me over the edge into buying this title, unfortunately. With Trip World's release, that brings the total of Virtual Console (Game Boy and Game Boy Color) titles to 37 in Japan.