Nintendo's uninspiring financial briefing didn't deter half of team RFN from their responsibilities.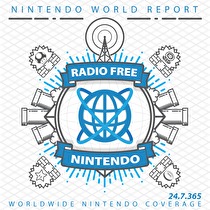 Subscribe via iTunes (Please rate and review, too!)
Nintendo had their annual investors' briefing this week, and with it came a run of news that dramatically reset expectations for the next year. No NX at E3. Nothing but Zelda at E3. No Zelda (or NX) until March 2017. Fire Emblem and Animal Crossing going mobile. Corporate oversight is tweaked. It would be easy to compare this to the infamous past episode The Day the Music Died, and we did. However, not all of our dedicated hosts were nearly so dedicated as to do their duty in the face of such harrowing news. Greg skipped off to watch the NFL Draft (an annual holiday in England). Meanwhile, Jon rededicated himself to the pursuit of fraternity. James and Gui were forced to let former host Jonny Metts back in the house, putting aside long-simmering feelings of betrayal in order to best deliver you the insight you expect from this show. The entire first segment tries to make sense of all the news, candy-coating everything with some positive conversation on Nintendo's latest Humble Bundle.
The news really turned the show on its head this week, because after the break is New Business. Jonny finally gets to talk Xenoblade Chronicles X with James and Gui. Sadly, it sounds like he intends to give up the game before saving humanity; it's an incredibly selfish attitude to take. He then offers some suggestions for what his former colleagues should be playing. Guillaume flies solo with his thoughts on Star Fox Zero. He's had more time to find his inner fox than Greg had last week, so his positive impressions are based on a larger cross-section of the game. James is still on Bravely Second, but even 30+ hours in he's still not sure why anyone would want to make a direct sequel to a JRPG. He also misses Ringabell. Who wouldn't?
It's time for our Castlevania RetroActive. The voting has closed, and the RFN listeners have sided with team Little Girl: our next game is Castlevania: Rondo of Blood. You can get it on the Wii Virtual Console. We will be doing our RetroActive segment sometime before E3. The comment thread is now open.
Have a question, suggestion, feedback, end music suggestion, or press release about nonsense we'd never care about? You can send it directly to our inbox. We've already received quite a bit of email about the news of the last week, but we're always looking for different perspectives, so get on sending it our way!
This episode was edited by Guillaume Veillette. The "Men of Leisure" theme song was produced exclusively for Radio Free Nintendo by Perry Burkum. Hear more at Bluffs Custom Music.
This episode's ending music is Return to Corneria from Star Fox Zero. All rights reserved by Nintendo.