Games for Nintendo systems have shown up in another Humble Bundle.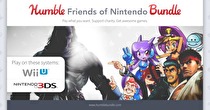 Nine Nintendo-system games are available through Humble Bundle, a digital storefront and charity fundraiser.The bundle is available in North America and Europe.
There are three tiers:
Pay $1 or more
Pay $13 or more
Pay "more than the average" (currently $9.20)
Citizens of Earth (choice of Wii U or 3DS)
A Retro City Rampage: DX Home Menu Theme for Nintendo 3DS
and "More games coming soon"
Payment can be split between the developers and two charities: SOS Children's Villages and Code.org. This is the second time eShop games have been included in a Humble Bundle.