It's a small wonder Great Fox doesn't transform into a robot, a tank, or some kind of robot-tank hybrid.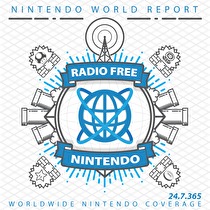 Subscribe via iTunes (Please rate and review, too!)
After a somber episode last week, the full RFN cast digs deep and finds a way to reunite to get the show back on the road. The Spirit of Unity pervades New Business, which Jon starts with Free-to-Play Wii U game Lost Reavers. Where else but on Radio Free Nintendo will discussion of a generic loot shooter turn into a deep philosophical exploration of mankind's unending urge to consume? James tries yet again to give a good report on Bravely Second; he likes it, honest. He and Greg then attempt to double-team impressions of Star Fox Zero, and this combined effort shatters the show's harmony. Greg is a fan of the indefensible walkers, the crippling over-reliance on All Range Mode, and an unrelenting series of baffling gameplay decisions. James, to say the least, isn't. He also writes this article, and as such casts the final verdict. Guillaume tries to bring the show back together with thoughts on "free" eShop titles My Nintendo Picross: The Legend of Zelda: Twilight Princess and Mini Mario & Friends: amiibo Challenge. He worries about his Picross chops and, unless Jon is willing to share his expansive amiibo collection, that he'll never see all of the Challenge.
After the break it's time for Listener Mail. We feature an assortment of your reactions to the NX news, Nintendo's E3 plans, Zelda's delay, and all the recent news, such as future President Trump's plan to rid the United States of the Lindemann Menace. You can send your insights on the currents roiling the politics of both US and the EU to our inbox.
Our Castlevania: Rondo of Blood RetroActive is a few weeks away. Get started playing, and you can leave your thoughts in the RetroActive talkback thread.
This episode was edited by Guillaume Veillette. The "Men of Leisure" theme song was produced exclusively for Radio Free Nintendo by Perry Burkum. Hear more at Bluffs Custom Music.
This episode's ending music is The Color Of The Summer Sky from Secret of Mana. All rights reserved by SquareEnix.