by Alex Osborn - 4:20 pm EST
Total comments: 10 Source: Nintendo Everything
Indulge in some nostalgia-filled goodness with these classic Zelda skins.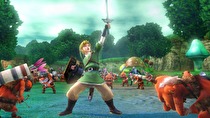 Hyrule Warriors' pre-order incentive costume packs are now available for purchase via the Wii U eShop.
A total of four packs are up on Nintendo's online store, three of which include costumes for both Link and Zelda: Ocarina of Time, Twilight Princess and Skyward Sword. The fourth pack, dubbed Demon King, provides an alternate skin for Ganondorf.
Read more...