If you want some Tetris in your life, you are running out of time!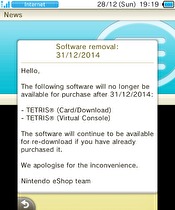 Two versions of the popular puzzle game Tetris will no longer be available after December 31 in Europe. This is what Nintendo of Europe announced in an update on the Nintendo 3DS eShop.
The versions being removed are the 2011 version of Tetris, better known as Tetris: Axis in North America, and the Game Boy Virtual Console game of the same name. No specifics have been given, but considering Ubisoft picked up the publishing rights in the west, we can only assume that it relates to the current state of affairs.
Players who are interested in the Nintendo 3DS version can pick it up for the reasonable price of €9.99. Nintendo has given no information on the removal of these games in North America.