by Nicholas Bray - 5:57 pm EDT
Total comments: 10 Source: http://www.wayforward.com/blog/2013/8/30/wayforwar...
Wii U will become even mightier this October.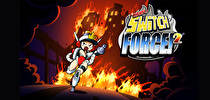 WayForward have announced that the Nintendo 3DS eShop game, Mighty Switch Force 2, will be coming to the Wii U sometime in October.
The game was rated for the Wii U by the European ratings board PEGI back in July, just after WayForward teased the existence of the port.
The game was originally released for the Nintendo 3DS eShop back in June.
Read more...