You will be able to play Scribblenauts Unlimited... in December.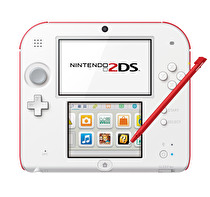 Nintendo of Europe has announced their fall line-up through a press release, which was released today.
First and foremost, Europe will also be seeing the arrival of Nintendo's brand new handheld for all ages, the Nintendo 2DS. The new system offers, according to Nintendo, a ''new distinctive fixed, slate form design, and will play all packaged and download Nintendo 3DS games in 2D''. The console offers the same functionalities of SpotPass and StreetPass, as well as accessing the Nintendo eShop. In Europe, the handheld will launch on October 12 and offer two colour combinations: White + Red and Black +Blue. If you are worried about damaging those new screens, you will be able to purchase a Nintendo 2DS carrying case that will be sold seperately.
This is not where the hardware side of things end however, as Europe will be seeing two new Wii U hardware bundles in October. Alongside the launch of The Legend of Zelda: The Wind Waker HD, there will also be a special 32 GB Premium Pack bundle. This will feature a Wii U GamePad adorned with gold lettering, a gold Hyrule crest and gold symbols. It also features a download code for The Wind Waker HD and a one week trial for Wii Karaoke U by Joysound, which will release before the year closes. The other hardware bundle will be a special LEGO City Undercover Premium Pack, but there are no further details on what this package will include. Speaking of special packs, The Legend of Zelda: The Wind Waker HD will also receive a limited edition version of the game. This will feature an exclusive double-sided title sheet with Zelda artwork and a Ganondorf figure which depicts the villian wielding dual swords in an attack formation.
As we move along to the software side of things, there are not many new details, but some important ones nonetheless. Wii Party U will arrive in Europe on October 25 and will have a special edition which features an additional Wii Remote Plus controller in either White or Black. Mario & Sonic at the Sochi 2014 Olympic Winter Games and Super Mario 3D World will hit stores in November, while Donkey Kong Country: Tropical Freeze and Scribblenauts Unlimited will hit stores in December. Wii Fit U and Wii Karaoke U still both have a vague 2013 release schedule for the region. Nintendo 3DS owners can look forward to Professor Layton and the Azran Legacy on November 8, along with Mario Party: Island Tour and The Legend of Zelda: A Link Between Worlds also coming later that month. Scribblenauts Unlimited is coming in December and Bravely Default is reconfirmed for the end of 2013 in Europe.