by Karlie Yeung - 5:30 pm EST
Total comments: 11 Source: (Destructoid), http://www.destructoid.com/-more-bit-trip-runner-i...
The game is finished but not expected for a release this year.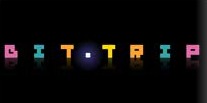 Details have emerged for the final installment of the Bit.Trip series, titled Bit.Trip FLUX. The game is complete and is likely to be released in early 2011, Gaijin Games programmer Chris Osborn told Destructoid. He also mentioned that the game is not meant to be Wii Zapper compatible, unlike the previous game in the series; it would be possible, but difficult to play using that control scheme.
Read more...