Holiday shoppers eat up Wii and DSi systems.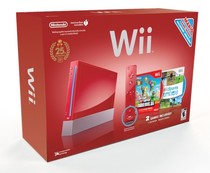 During Thanksgiving week, beginning November 21, Nintendo sold 900,000 DSi units, while the Wii managed to move 600,000 units according to Nintendo's internal sales data. These sales include the recently released bundles for both systems -- the limited edition Super Mario 25th Anniversary red Wii bundle, the limited edition Super Mario 25th Anniversary red DSi bundle, the black Wii system, and the new green and orange DSi systems bundled with Mario Party DS.
"U.S. shoppers bought about 9,000 Nintendo hardware systems nonstop for every hour of every day during the week of Black Friday," expressed Nintendo of America President Reggie Fils-Aime. "For the past several years, consumers have decided that Nintendo defined both top value and all-inclusive entertainment, and that sentiment continues again at the start of this shopping season."
Despite total sales being close to last year's numbers, there was a rise in Wii units sold; the Wii sold 50,000 units more than last year. Compared to 2008's peak, though, sales fell short of the 800,000 units sold that year. There was a decline in DSi sales compared to last year with 100,000 fewer units sold this year.